Looking for 4th of July Fun?
I don't know about you, but I am scrambling to keep my kids busy this summer (insert-unkempt-grey-hair-pulling). With the coronavirus numbers climbing right alongside the heat index, we will be staying close to home this Fourth of July weekend.
Enter: DIY Bubbles AND DIY Bubble Wands!
Several summer camps opened up where we live with limited capacity, but we opted out. We are very lucky and extremely grateful to have the ability to work at home and stay with our kids.
We still go outside daily for biking, scootering, skateboarding, etc., but it's really heating up where we live. I try to get us out before 9 am for at least an hour. When that doesn't work, I've taken to spraying them down with the garden hose while they bounce on the trampoline. They love it! (My neighbors don't love it.) But that crazy, screaming monkey fun only lasts so long for my little mad creatives…
After they DIY'd their own slip 'n slide with blue tarp and a huge inflatable raft, they decided to "make it rain." They emptied out two large plastic storage bins, dragged them under the trampoline, filled them with water, sat in them, and sprayed the UNDERside of the trampoline so it would rain down on their heads. (genius)
Note: There were no other children on top of the trampoline and I was there the whole time. They know the rule…NEVER GO UNDER THE TRAMPOLINE. I made an exception this time.
My kids are constantly looking for a new adventure. I'm thrilled that they are so inventive, looking for new ways to play and make-believe. This explorer mindset will definitely help them when they get older…for sure. But now? Makes me one tired mommy. (Zzzz)
Since we don't have our own pool and we've only been to our community pool ONCE since Christmas, I've been looking for new ways to get them outside, keep them cool, and get their bodies moving.
The latest?
DIY BUBBLES & BUBBLE WANDS!!!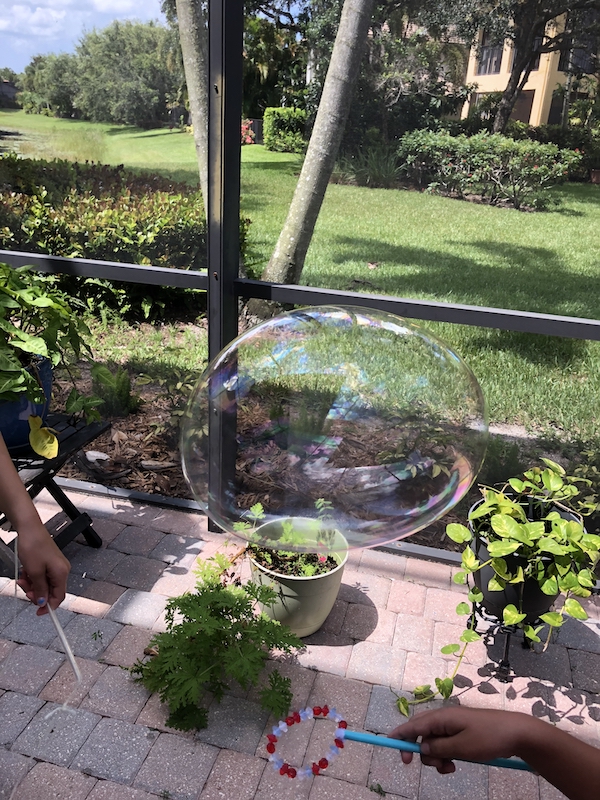 Should keep them occupied for at least a few days. (phew!)
There are so many ways to make homemade bubble solution. I'll show you two easy recipes that work. One with glycerin and the second without glycerin & optional cornstarch. Glycerin & cornstarch stabilize the mixture so that the bubbles won't pop as quickly. They're not necessary if you don't have any lying around (not many people have glycerin). The basic recipes will work if you want to whip up a quick batch to save your sanity for the day. 🤪
I bought Wilton Vegetable Glycerin in the baking section at Michaels a few years ago. It only takes a little and lasts a long time! You can also find it on Amazon… if, like most of us, that's where you're doing most of your shopping these days.
See below for recipes!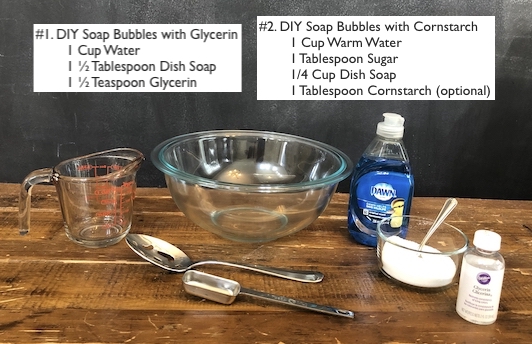 #1. DIY Soap Bubbles with Glycerin
Ingredients:
Steps:
Pour water into a large bowl.
Slowly add dish soap and stir gently. You don't want bubbles or foam to form.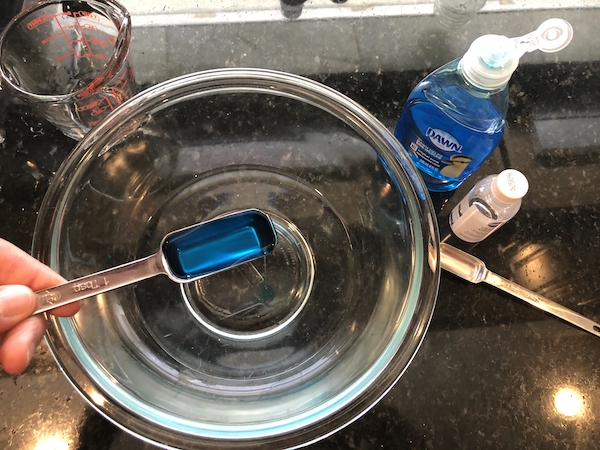 Add glycerin and continue to slowly mix until completely dissolved.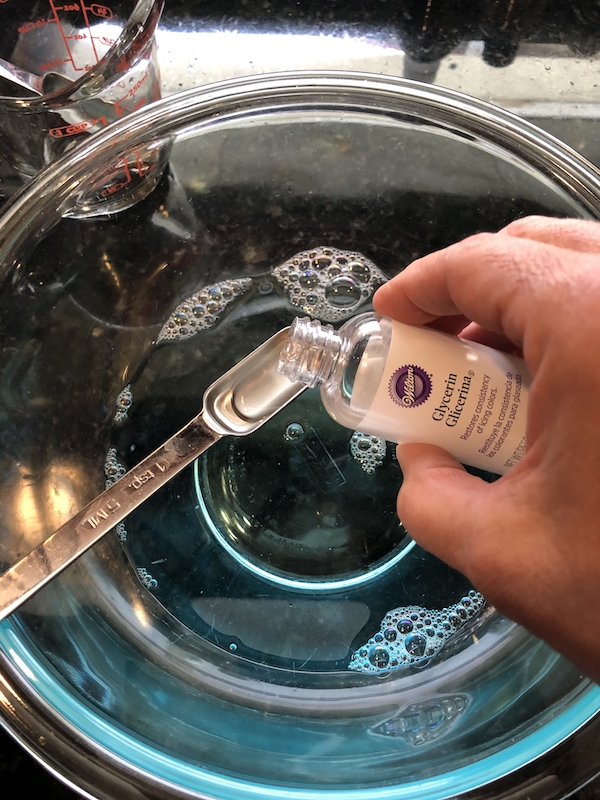 Bubbles can be used right away!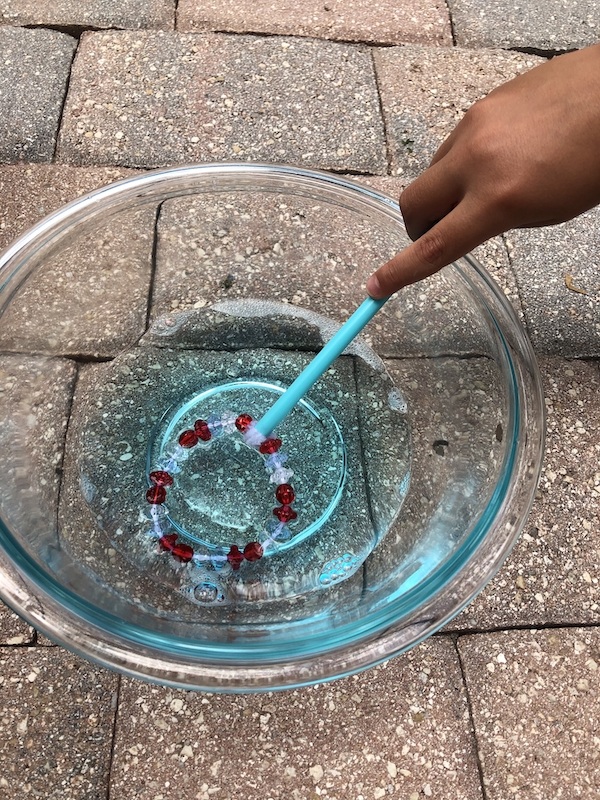 As with all bubble recipes, it works best if it can sit overnight.
…but what kid can wait for that?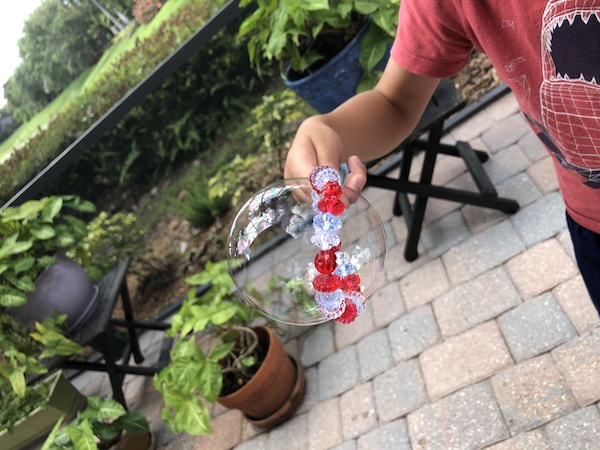 #2. DIY Soap Bubbles with Cornstarch
Ingredients:
Steps:
Pour the warm (not hot) water into a mixing bowl.
Add sugar and stir until completely dissolved.
Slowly add the dish soap and stir gently. Do not mix too vigorously, you don't want foam.
*Add cornstarch, mix slowly until completely dissolved.
These are both small batch recipes. I scaled them down on purpose — you might want to experiment with your ingredients to get the right mix before making larger batches to fill big containers. Depending on the brand of dish soap, you may need more or less.
*I added the Cornstarch at the end of our experiment for recipe #2 and found that it turned the mixture cloudy, but really worked for the Giant Bubbles!!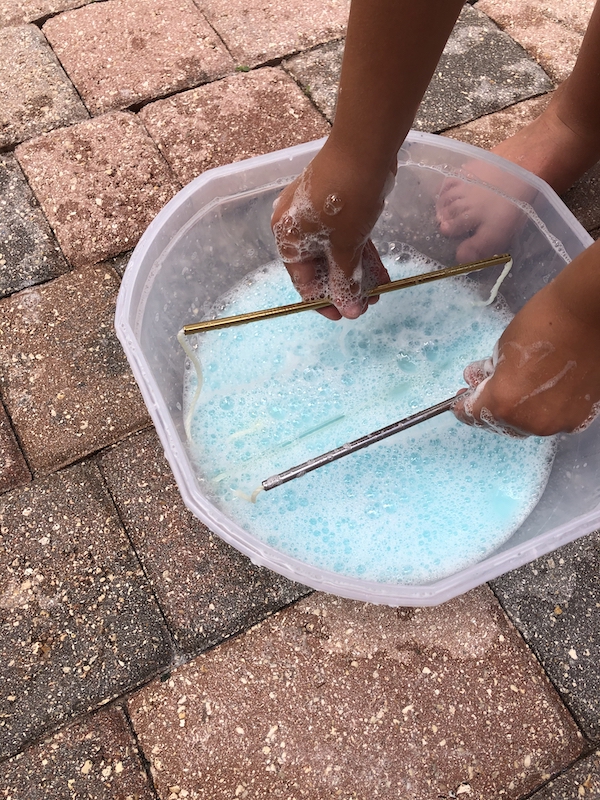 Tip: You might need to adjust the amount of cornstarch…I had to re-mix several times as it sat at the bottom of the bowl. I decreased the amount in the recipe for next time. But it worked great for BIG bubbles!
Now, let's make the wands!
How to Make Your Own Homemade Bubble Wands
Part of the fun of making homemade bubbles is to make DIY your own wands!
You can make small wands for regular sized bubbles… or wands for GIANT bubbles! See below.
Regular Sized Bubble Wands
Supplies: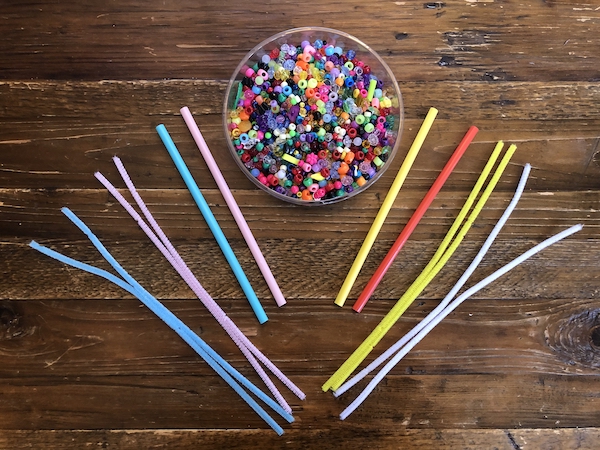 Steps:
Thread the pipe cleaner through a straw.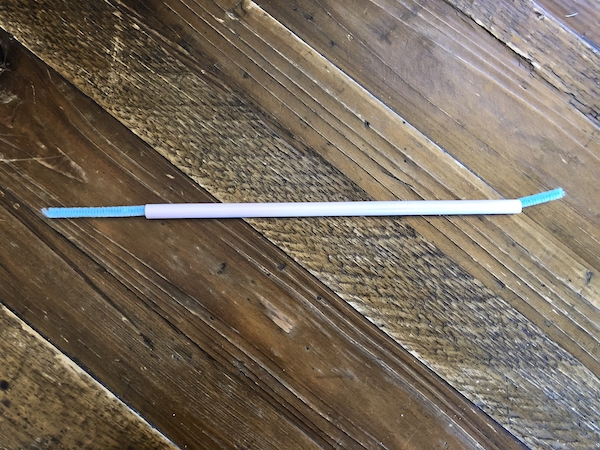 Leave 1/2" pipe cleaner sticking out and bend to secure one end (tuck the sharp point under itself so little fingers don't get scraped).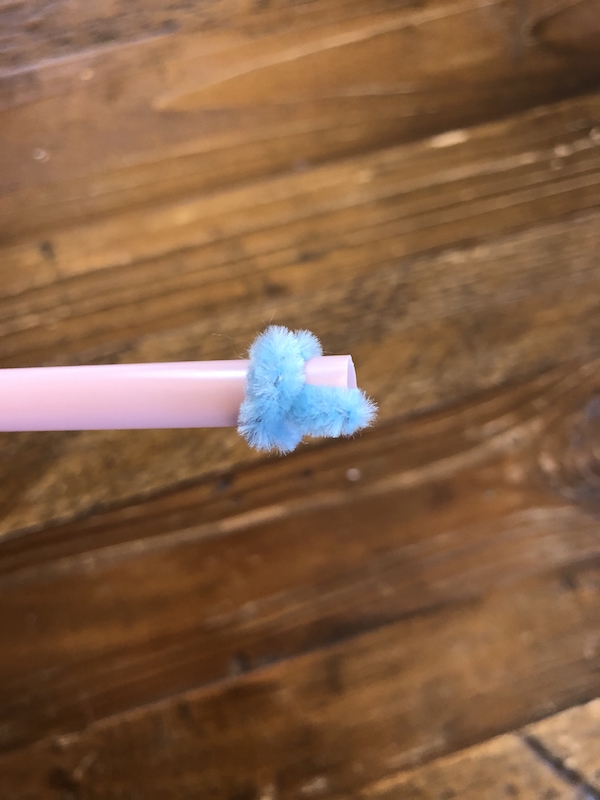 Twist a second pipe cleaner to the opposite end (this is where you will add beads).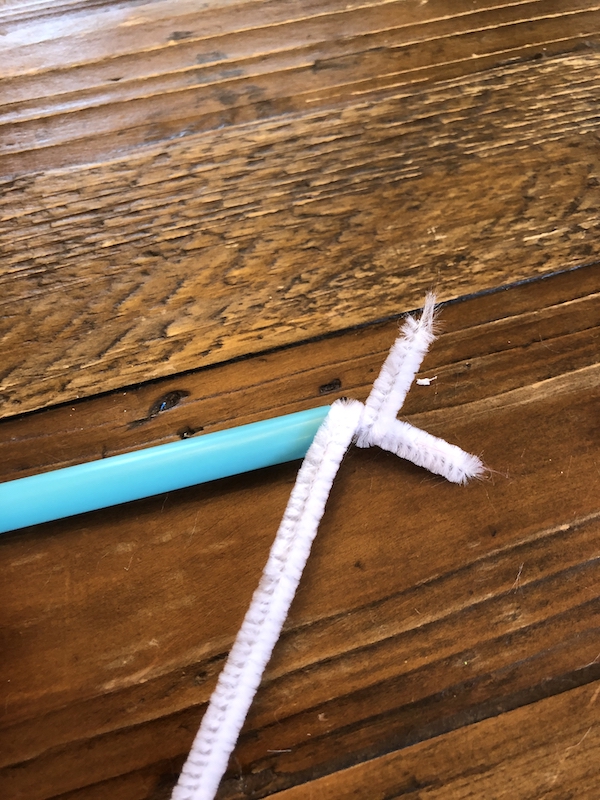 String with beads! Have fun!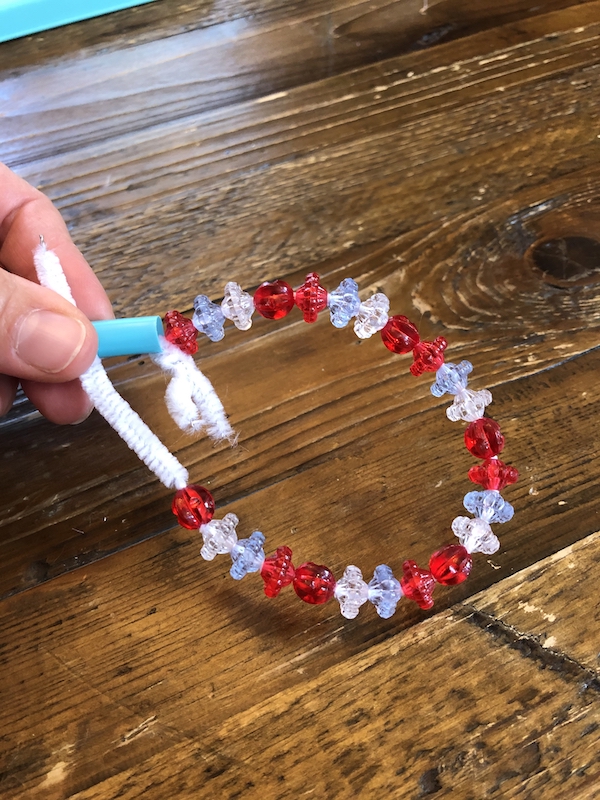 Create a shape: experiment with round, square, triangle, oval…twist to secure, tucking ends into the straw.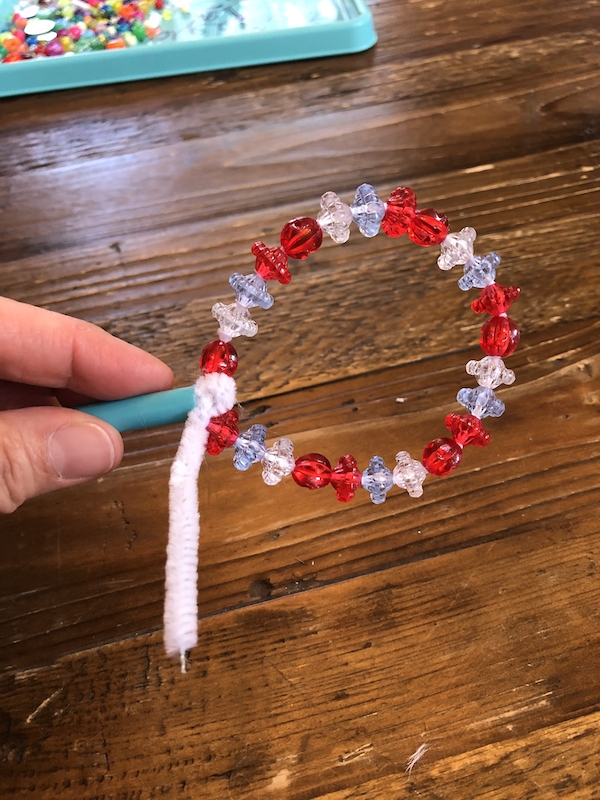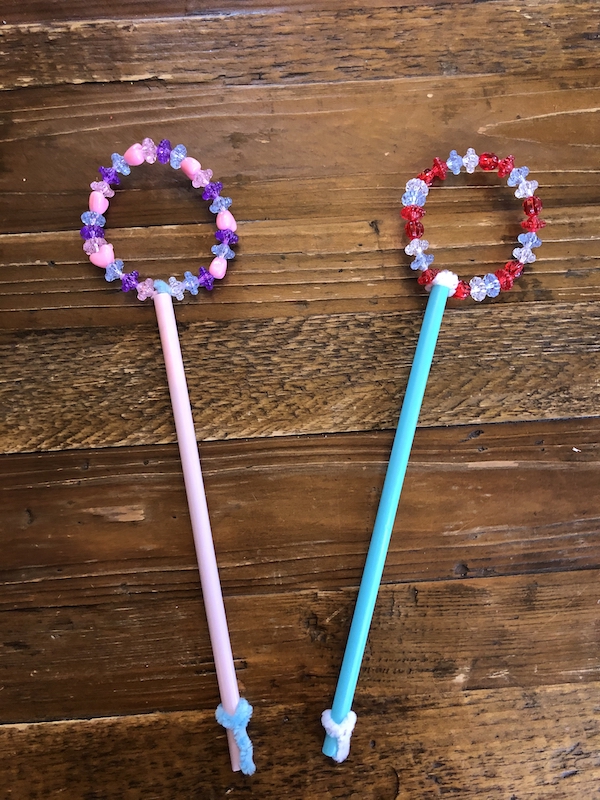 Start blowing bubbles!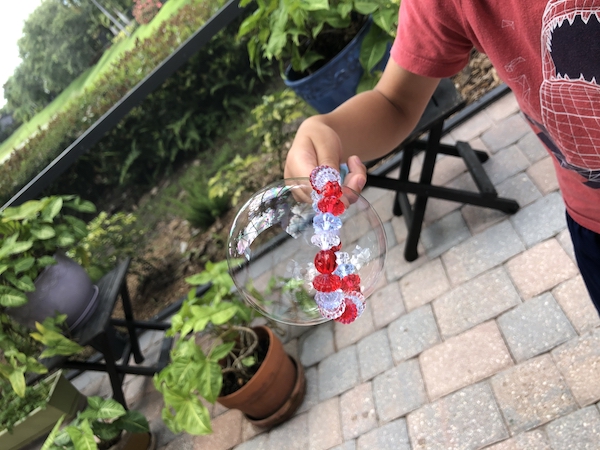 Giant Sized Bubble Wands
Supplies:
Tip: We tried hard plastic straws, thin plastic straws, and stainless steel straws. The thick, hard plastic tumbler straws worked best.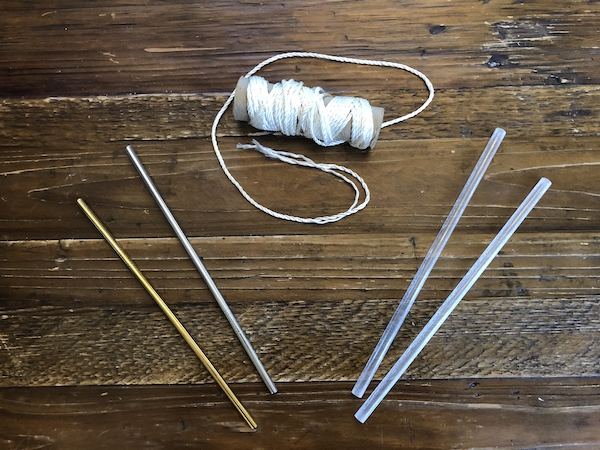 Steps:
Thread the string through both straws and tie a knot to create a square or rectangular shape.
Tip: I used a pipe cleaner to thread the string through the straw.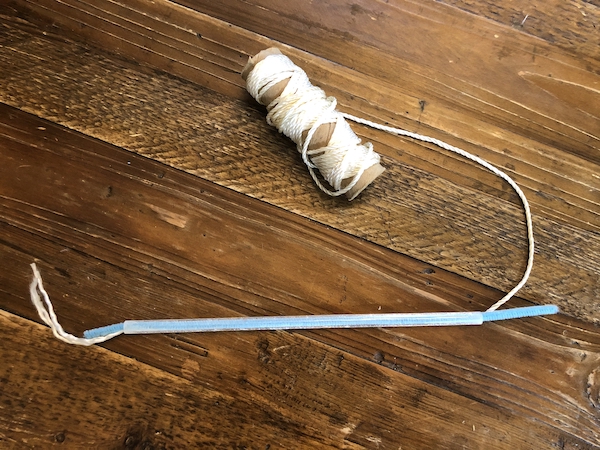 Optional: Hot glue chopsticks into one end of the straws to make handles. (We didn't do this because I honestly forgot! I wanted to try it out and my kids were having so much fun without the handles…they worked great!)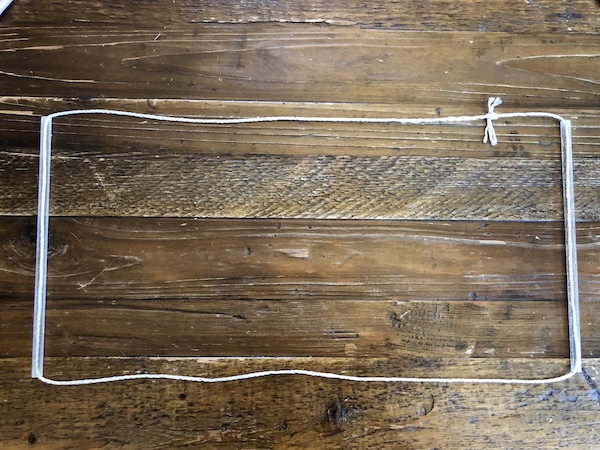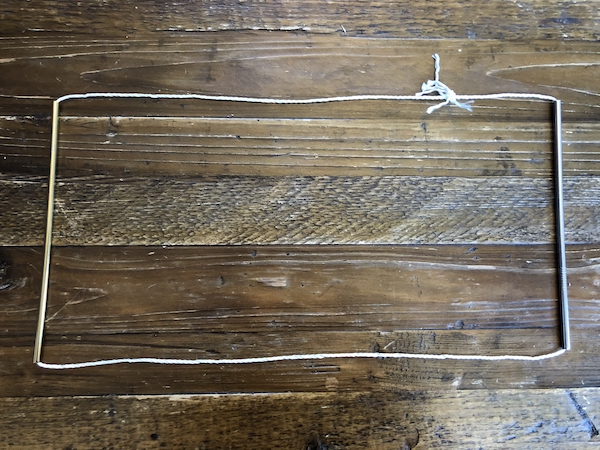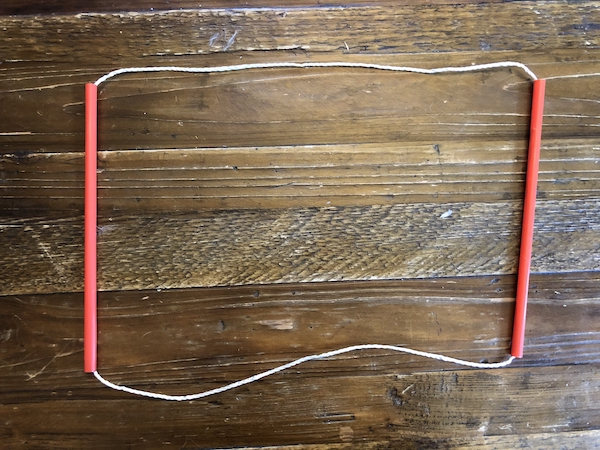 Hold straws with each hand & dip into a large bowl or flat dish of soap.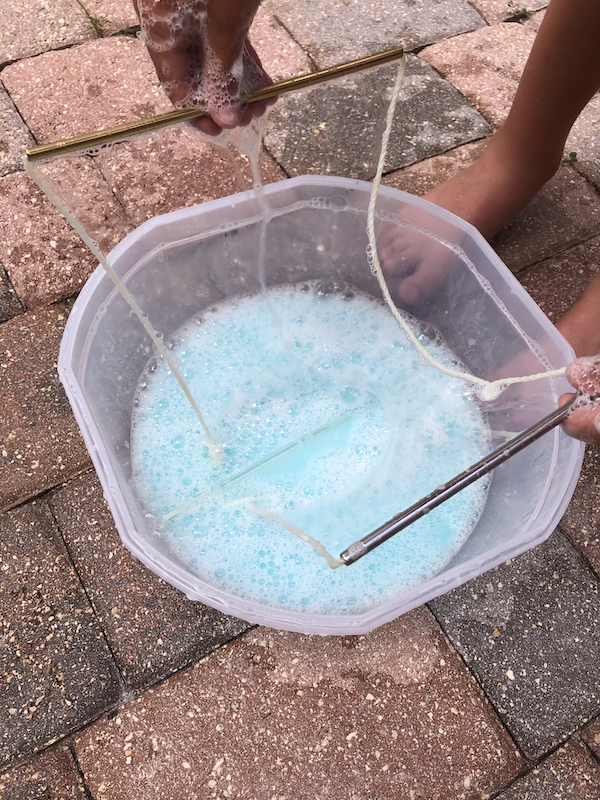 Make GIANT BUBBLES!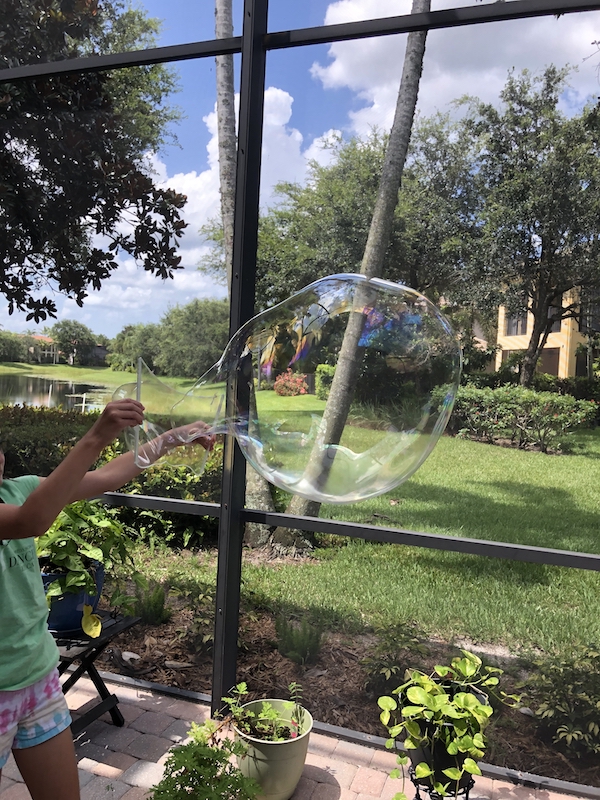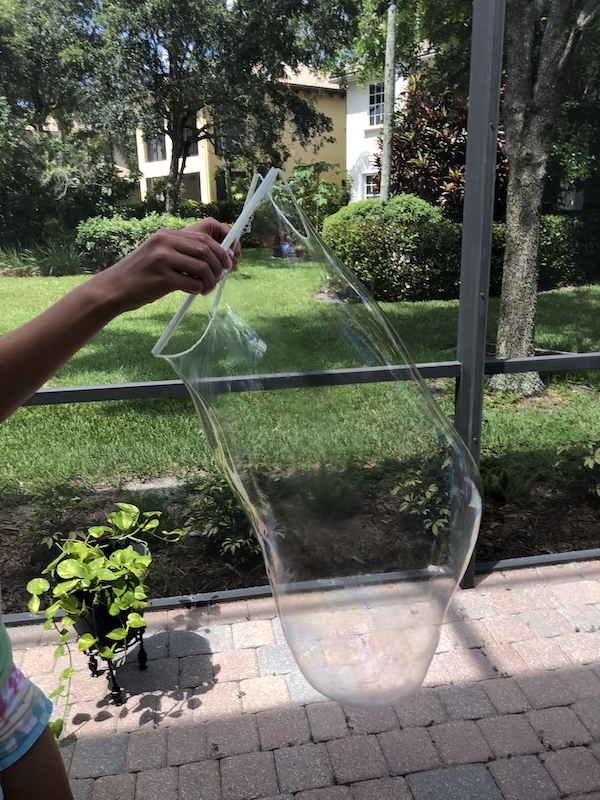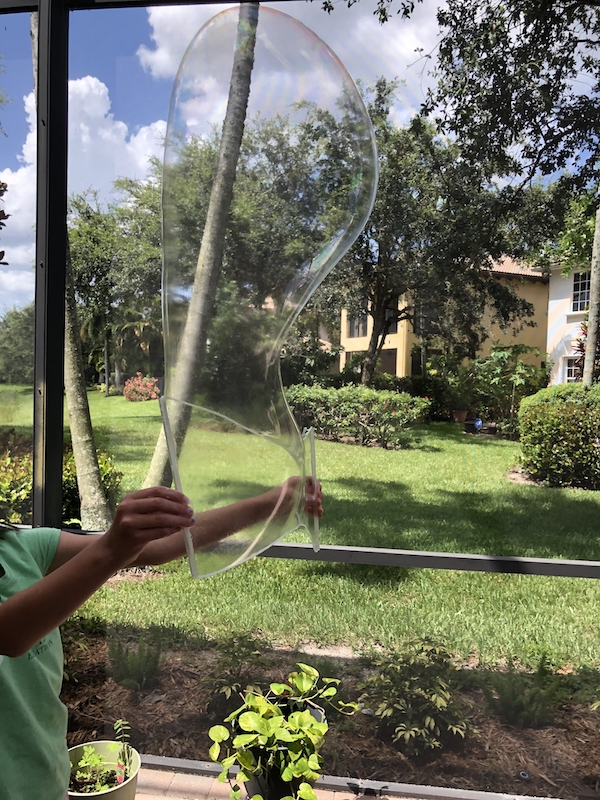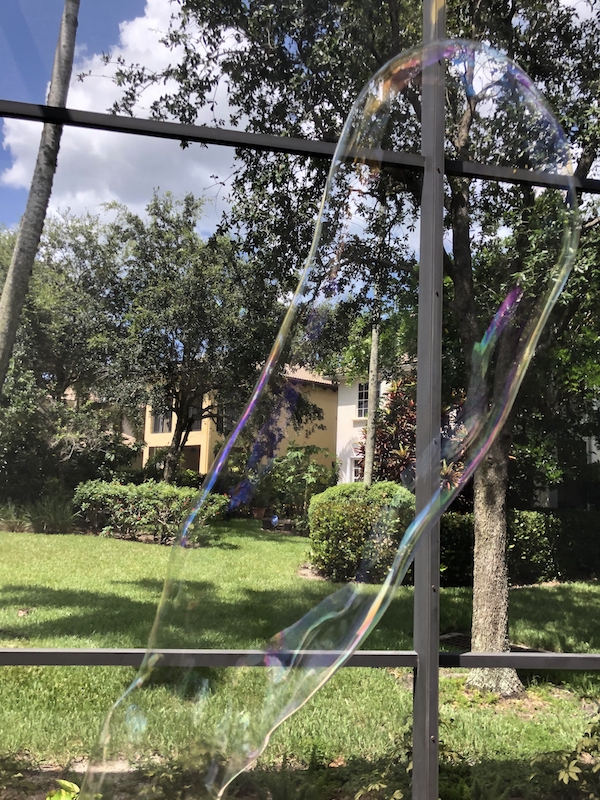 Bubble Storage
You can store the bubbles in any large plastic or glass container (plastic is less likely to slip and break). We have used those large mixed nut containers from Costco… or you could clean out a gallon milk jug, which would be easier for pouring.
I found this cute plastic bubble dispenser at Target a few years ago. It came with a bubble mix and a variety of small wands. Glad I hung onto it!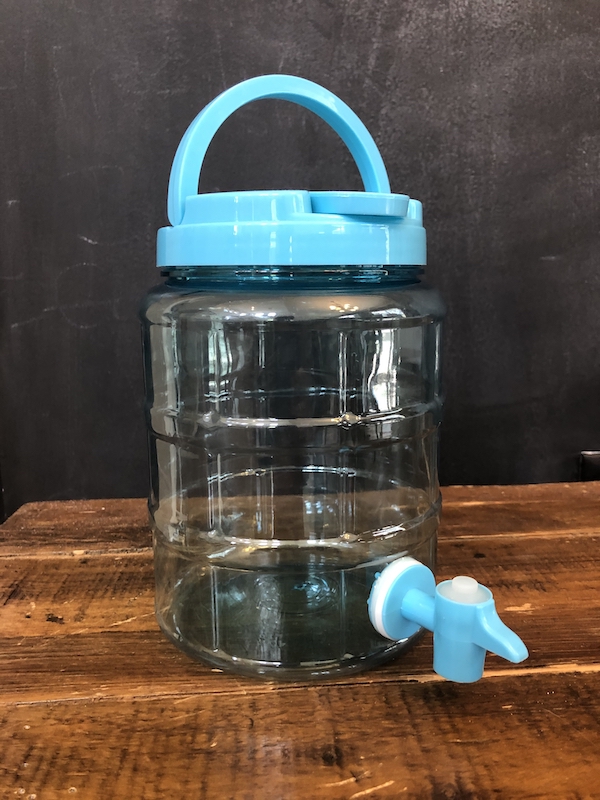 I can't find that exact dispenser online now, but you could get fancy with these adorable plastic drink dispensers!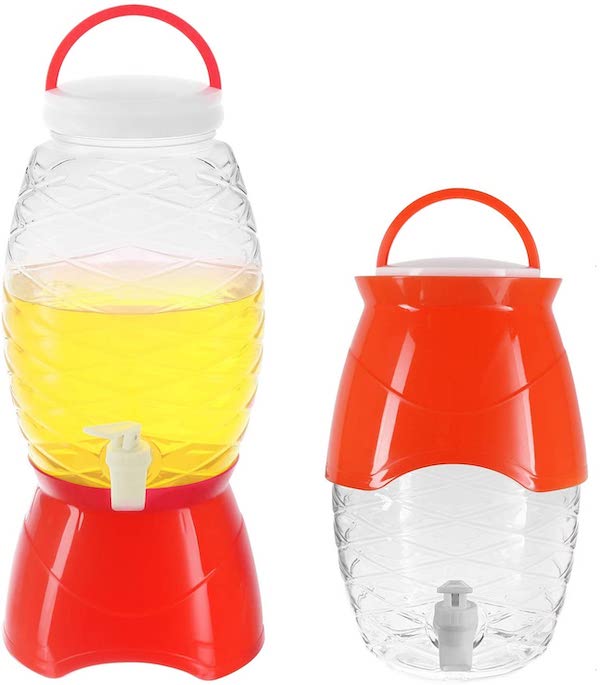 There you go. Making your own bubbles and wands is a very easy and very inexpensive to keep the kids occupied and have loads of outdoor summer fun.
Let me know what mixture you like best and if you have your own concoctions you'd like to share.
Now… get out there and enjoy the lazy, hazy days of summer! 🌞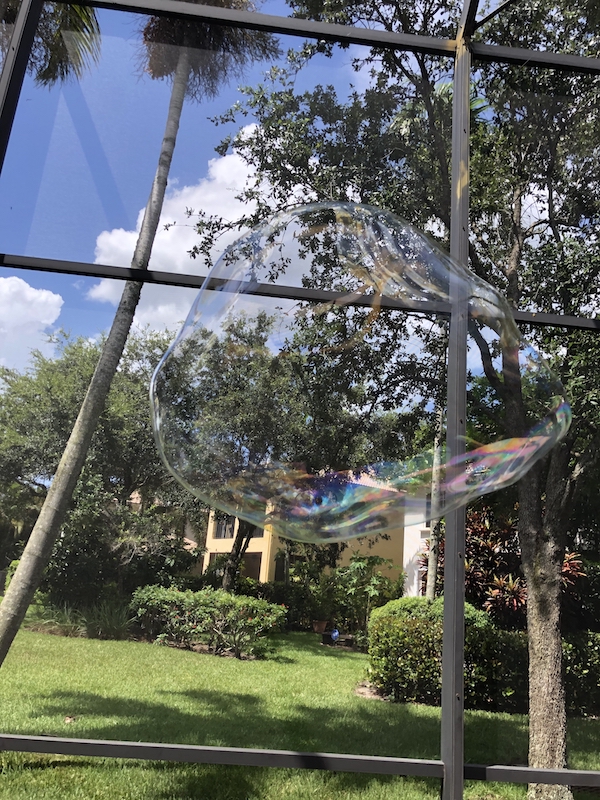 Stay safe and have a Happy Independence Day! 🇺🇸 🎆