With Double Bonus: Heart-Shaped Petit Fours & Chocolate-Covered Pretzels!
Leftover cake? Who the heck ever has leftover cake, right??
Let me explain…a few weeks ago I posted how to make a 3-layer chocolate PJ Masks themed cake.
When you stack a cake, you have to level the cake. That means cutting off the top, dome shape that rises in the oven.
Hence, "Leftover" cake. Sure, I'm guilty of stuffing all those yummy pieces in my mouth while no one else is looking…
Wait, did I just say that out loud?
AHEM…However, wouldn't it be more fun to make something with it? Like…Cake Pops!!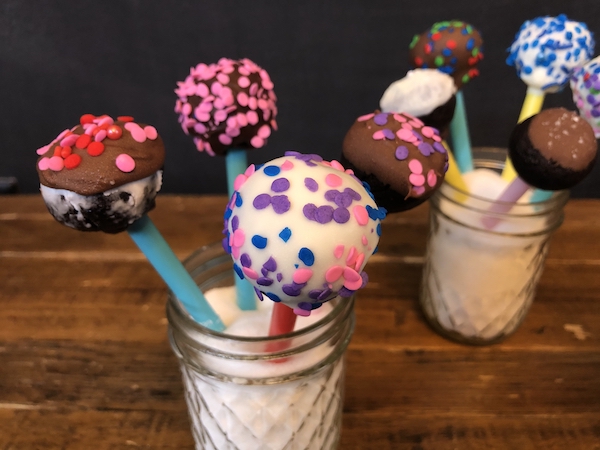 And for even more sugary fun…scroll down for the heart-shaped petit fours and chocolate-covered pretzels…there is so much you can make with all the leftovers from this project!
You can make cake pops or cake balls, which are essentially cake pops without a stick. But we have so many of those big, colorful smoothie straws lying around the house, we thought we'd try those instead of buying actual lollipop sticks, which are inexpensive and available on Amazon. Don't use skinny or paper straws, they will not hold up the weight of the cake ball.
If you recall from the cake post, my daughter (Rosanna Pansino fan extraordinaire) had the whole idea to make her little brother a PJ Masks birthday cake. Once I mentioned "cake balls," her jaw dropped and she looked like she had won the lottery. So, she took over the whole process and I just took notes.
Besides Rosanna Pansino's YouTube channel, she watches every single baking show on TV. Seriously, she told me step-by-step exactly what to do, so I didn't even have to get messy. She did all the grunt work while I took photos.
Hmm…if only she would take over cleaning the bathroom with such enthusiasm. 🤔
Let's start with the supply list. Once you've made the cake, there's not much else you need. Remember the delicious cream cheese frosting recipe? You'll have leftovers of that as well.
It doesn't matter what color frosting you use. With chocolate cake, it won't make a difference. We used the leftover white because I try to limit food dye as much as possible. My kids like to spread the leftover frosting on graham crackers for a little sugar-rush snack. (Yikes!)
Supplies
Instructions
Prepare the Cake:
Set frosting on counter to soften while you crumble cake pieces.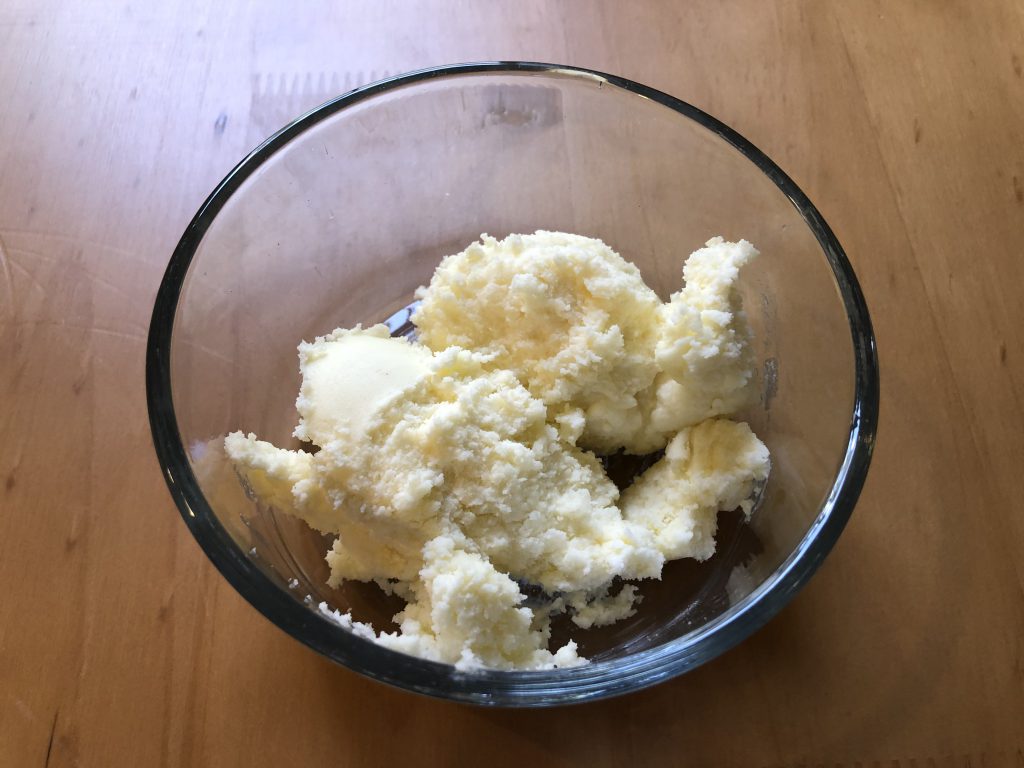 Put all leftover cake pieces in bowl.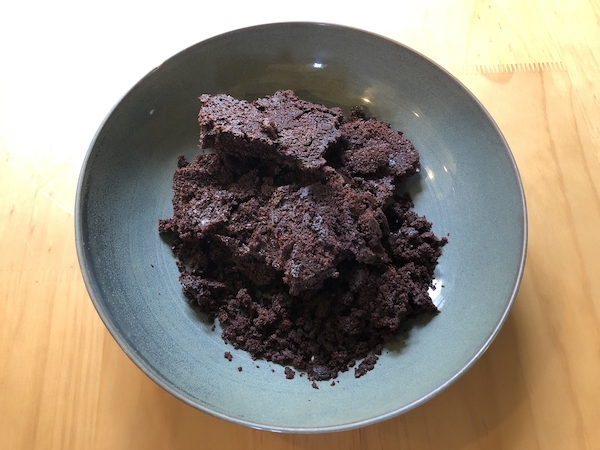 Lightly crumble cake into tiny pieces – using your hands works best and is the most fun!

Keep crumbling until it feels like the texture of Kinetic Sand, according to my 11-year-old daughter. "If you don't know what Kinetic Sand feels like, ask your kids," she says. 😁
We ended up with 2 cups of crumbled cake.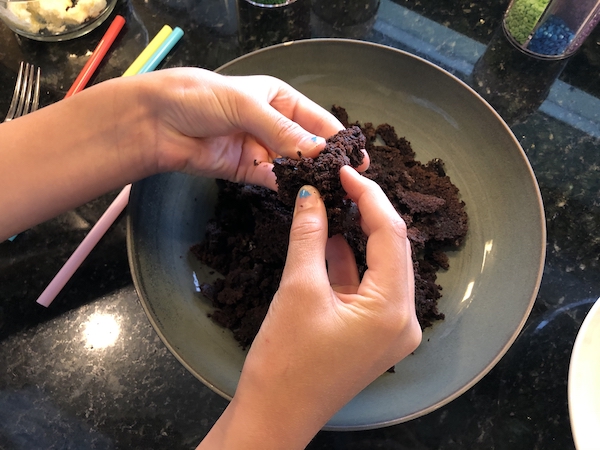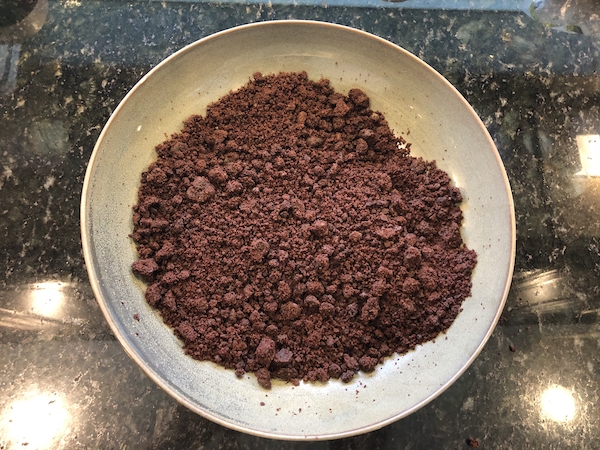 Start adding 1 tablespoon of frosting at a time to the cake crumbs and mix with hands. Make sure frosting is not too hard.

My daughter dictated this to me: "I recommend gloves because this might get a little bit messy as you can see in the picture above with my daughter's hands. But if your child is around, just ask them to join in on the fun and they'd be happy to get messy, like me!" 😆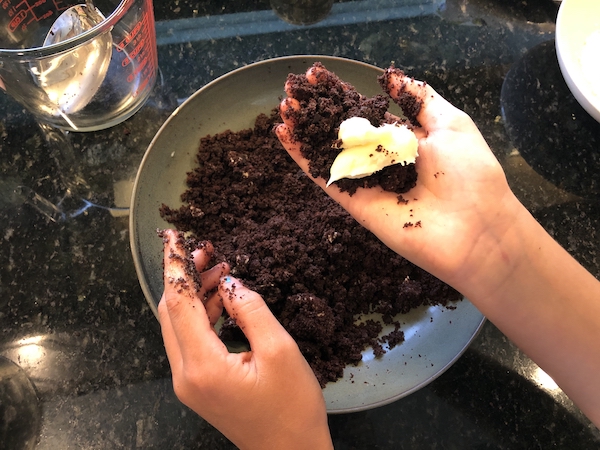 Tip: Coat the frosting with cake crumbs first before you try to mix or the frosting will stick to your hands.
We used 5 tablespoons of Frosting to get the consistency we wanted.
Tip: The consistency will be similar to Play-Doh. You should be able to push your finger in and it will hold that shape.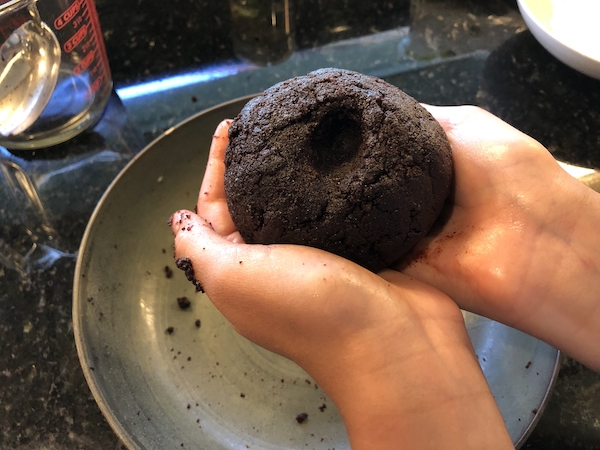 Tip: If you add too much frosting, it'll be too mushy, sticky, and not form balls properly. You can add powdered sugar to firm them up if needed.
Roll your cake mixture into little balls with your hands and set aside. We made ours about 1 inch in diameter. Some were bigger, some were smaller. We're not perfect, nor do we want to be! 🤪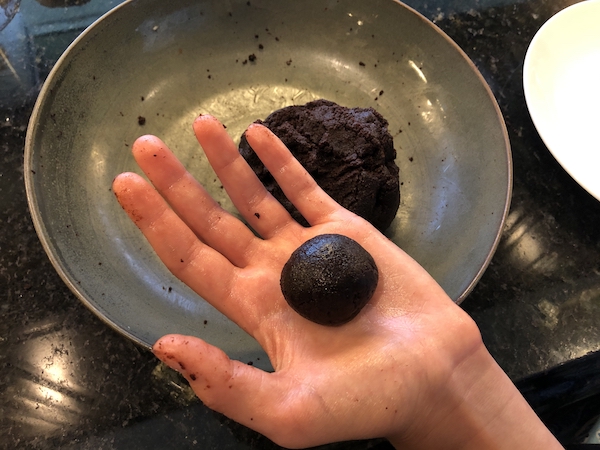 Prepare Lollipop Sticks or Straws:
If using smoothie straws, cut them in half.
Warm up a small amount of chocolate or candy melts, 15-30 seconds at a time in the microwave, stirring in between.

You don't want to overheat, or it will not be usable.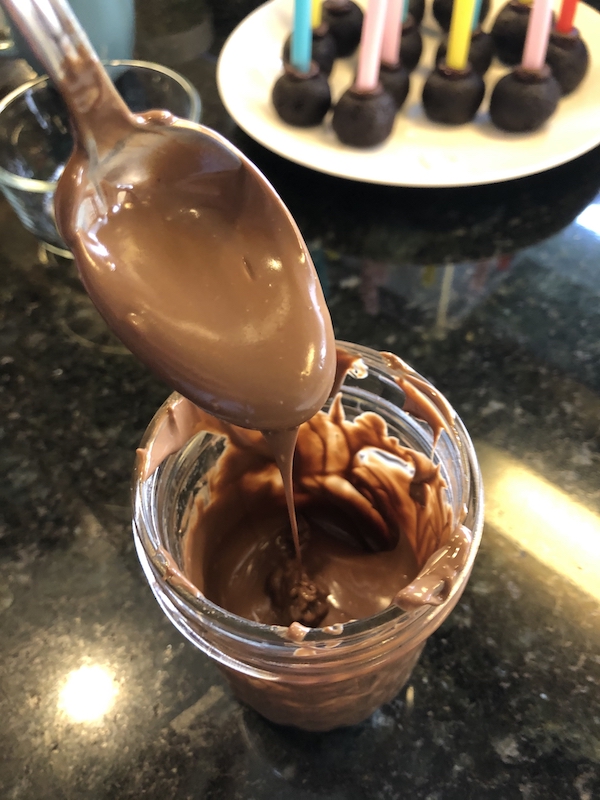 Tip: The melted chocolate needs to be pretty runny in order to dip the balls into. My daughter says it needs to be the consistency of Elmer's Glue.
Dip about ½" of one end of the straw into the melted chocolate, and push the straw 2/3 to 3/4 the way into the cake balls. This will prevent them from falling off the straw when dipping.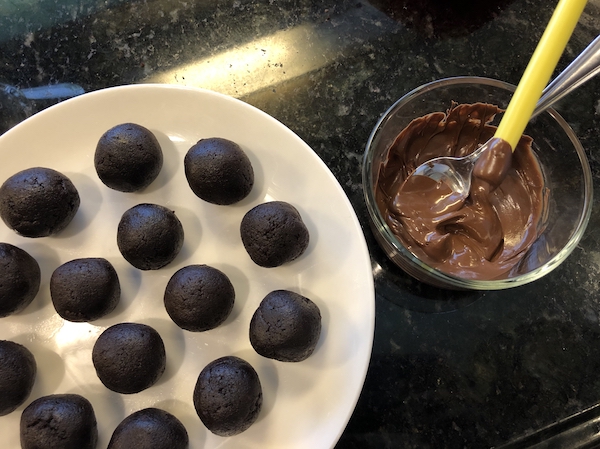 Do this for all the cake balls then chill for 20-30 minutes to firm them up in preparation for dipping!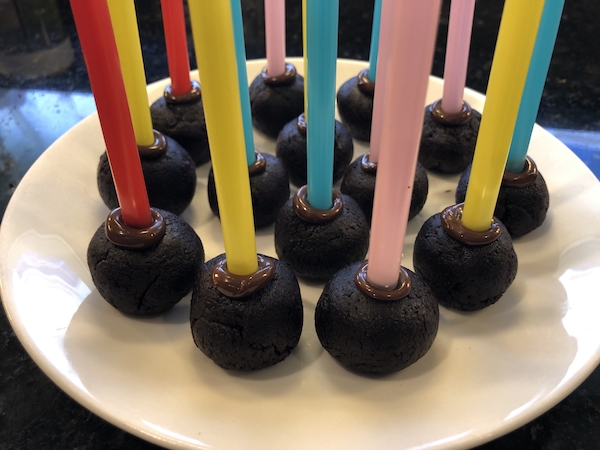 How to Dip Cake Pops:
Melt some more chocolate (15-30 second increments), grab a cake pop and start dipping!
Dip and gently swirl your cake pop in the melted chocolate and pull out rather quickly.

Stop just above where the straw meets the chocolate ring. The chocolate will run down the straw if you dip it further.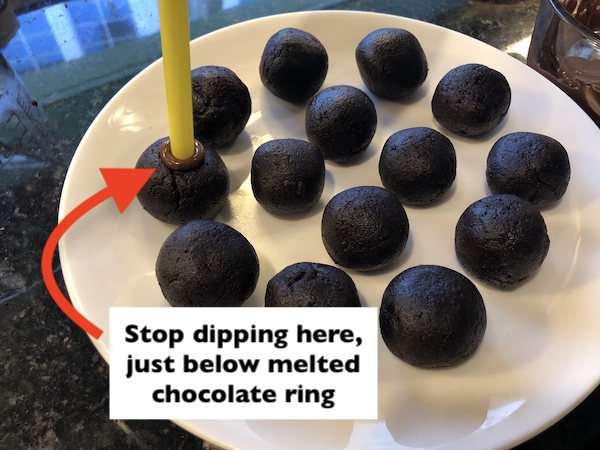 Tip: We melted chocolate and peanut butter together…these, BY FAR, are my favorite cake pops!
You will have to continuously turn the cake pop after dipping to let it harden a bit.

This is a longer process than we thought! It takes time, so be patient. Better to do this part with someone you love talking with. 😍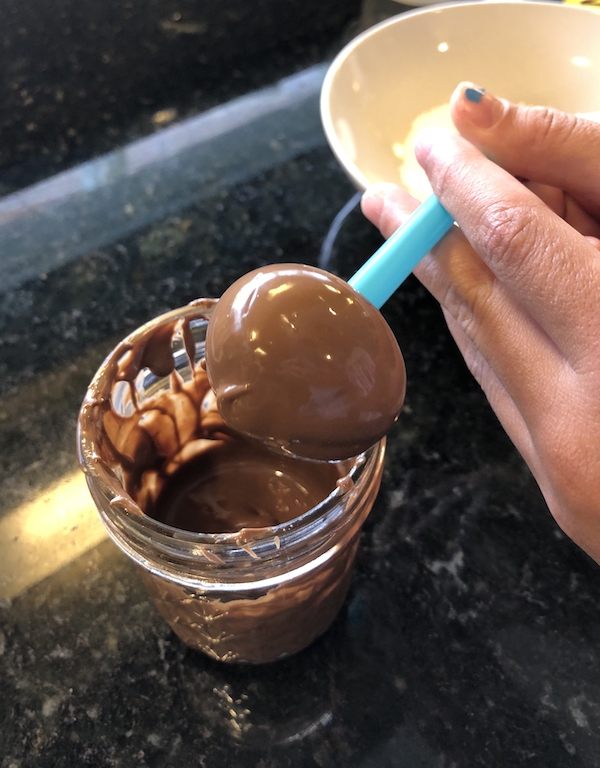 As soon as the chocolate stops running, but before it's completely hardened, add your sprinkles!

My daughter experimented by dipping some in powdered sugar, creating fun designs… she even made a special pop for her little brother with dinosaurs on it. 🦕 🥰
As soon as one cake pop was finished, we put it in the freezer.
Tip: We don't own a professional cake pop stand, so my brilliant daughter had the idea to put rice in a tall heavy glass, push a chopstick in the bottom of the straw, and stand them securely in the rice so they wouldn't fall over in the freezer and get ruined.
Note: Our grocery store didn't have candy melts, so I bought the different flavors of morsels instead. I believe candy melts would have been easier to work with, but chocolate morsels taste better… in my humble opinion. (Especially Peanut Butter!)
And you know what? It really doesn't matter because it's all about having fun with your kids, right?
All Chocolate Does Not Melt Alike:
We noticed that some of the morsels hardened faster and were easier to work with:
White chocolate

is the runniest and hardest to work with. We had to turn the pop the longest to cool before we could put it in the freezer without it running down the straw.

Milk chocolate

is the 2nd runniest.

Semi-sweet chocolate

came in as 3rd, but I didn't heat it up enough and the pop fell off the straw because the chocolate was too thick. But, I was able to push it back together and hide it with sprinkles.

Peanut butter & chocolate

mixed together was the best for dipping and hardened the fastest. We didn't make any with solid peanut butter…this time. 😉
Some were not as successful, but thankfully, hubby doesn't care about the presentation. He will eat ANYTHING chocolatey. He's a devout chocoholic!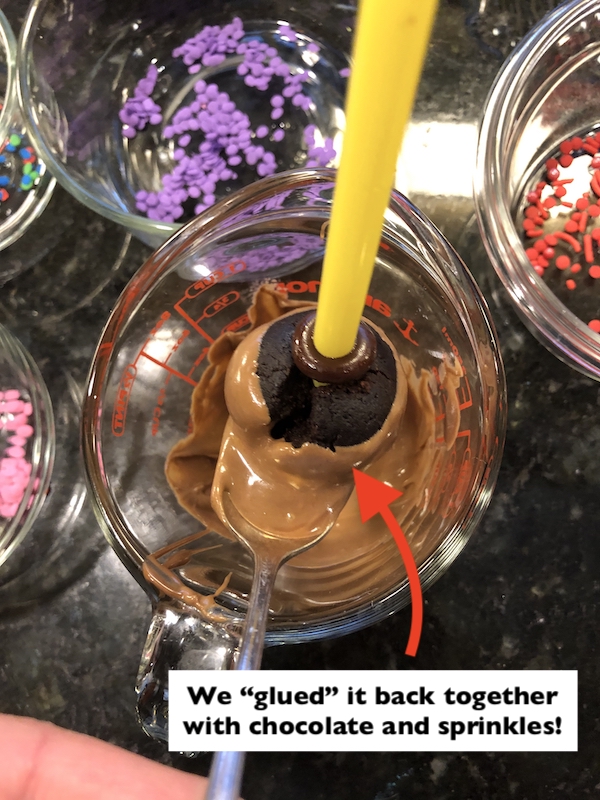 Overall, this was a very simple, yet time-intensive project. It was loads of fun! Spending quality time with my kids? Priceless.
My advice is to let go of perfection (please) or you will lose your mind… There's a lot of dripping, dropping, and breaking. If you go into it with that mindset, you will find laughter makes everything taste better. 😁
I hope you try making these cake pops! I will actually make a big cake JUST to make cake pops next time. When frosting is mixed with cake, then dipped in a coating of chocolate…Oh. My. Tastebuds. So moist and yummy! 😋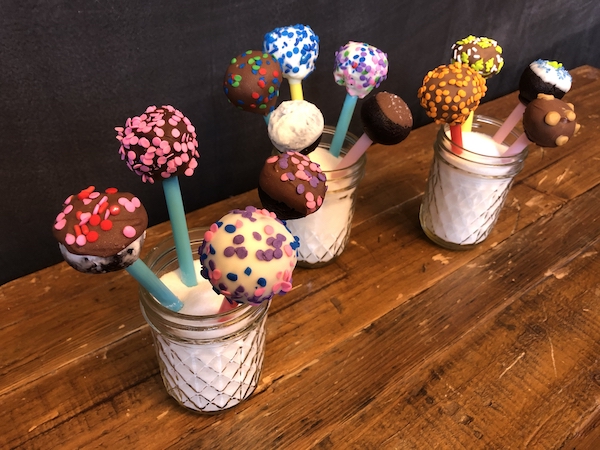 We used small 8 oz mason jars filled with granulated sugar to display our cake pops!
Bonus #1:
Heart-Shaped Petit Fours
My daughter found a heart-shaped silicon mold hiding in our cupboard and decided to make cute, heart-shaped petit fours.
She insisted we coat the mold with powdered sugar first. And…she was right, they popped right out!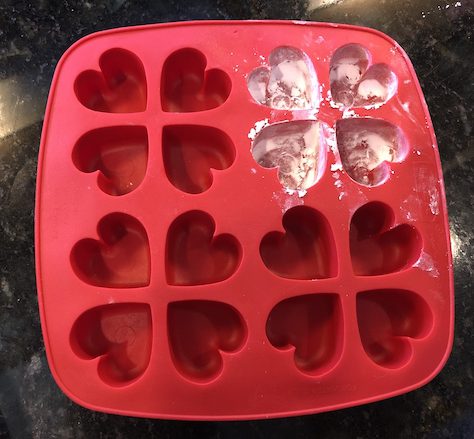 She pushed the cake mix into the mold and we chilled them overnight.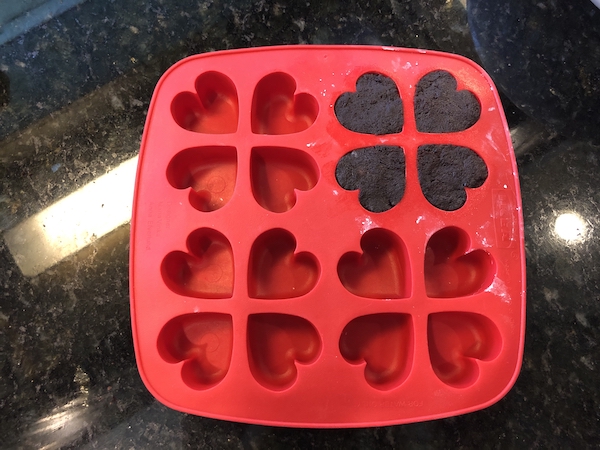 She drizzled them with melted chocolate, added sprinkles, and Voila! Easy-peasy, mini heart chocolate cake bites! ❤️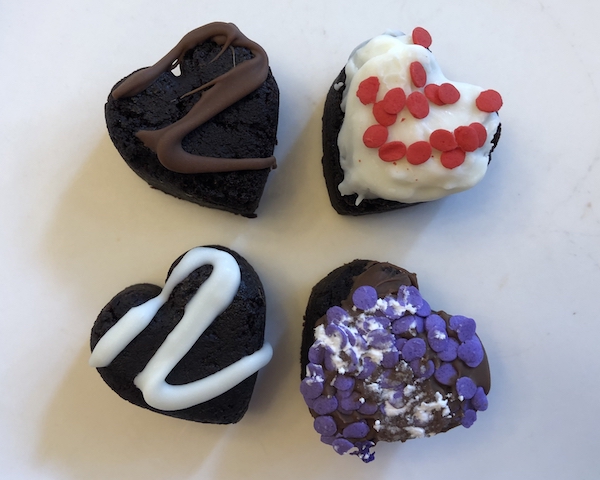 Bonus #2:
Chocolate Covered Pretzels!
We had so much leftover melted chocolate that we decided to make chocolate covered pretzels!
Instructions:
Heat up all the small containers again, just enough to scrape out the chocolate into one big bowl.
Melt the chocolate in that big bowl to get the same consistency used for dipping the cake pops.
Add pretzels a little at a time and gently stir (making sure not to break any) until they are lightly coated with chocolatey-peanut buttery goodness.
Spread them out onto a wax paper-covered cookie sheet.
Chill in the fridge for an hour.
Break apart chilled pretzels in bite-sized chunks.
Serve and enjoy!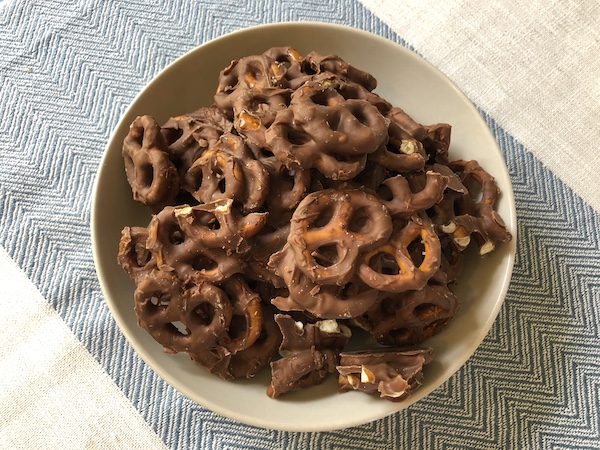 The moral to this story?
Don't be afraid to try something new and make mistakes. Everyone makes mistakes! The most successful people on the planet have failed over and over and over again before they found even a glimmer of success. If you stop yourself before you even try, you'll miss out on a lot of fun… especially with your kids.
And look at all the bonuses we got out of making one cake!
It's not about being perfect, it's about being present. 💝