Cake So Easy, You Can Make It with Your Kids!
I have a confession. I am a reluctant cook…there is something about doing the same thing over and over again that doesn't light my fire. I'd rather be outside, on a bike, at the beach, walking the dog, climbing a mountain, or jumping out of an airplane…than standing over a hot stove making meatloaf for dinner.
I watched my mom do that for our family of 7, every day, for me and my 4 older brothers, for the 18 years I lived at home. Yes, I was the youngest and only girl in a family of boys…and I survived!
That did not appeal to me.
My mom had mad homemaker skills. I wanted nothing to do with any of that (shudder). As far as I was concerned, Domestication = Death. I was like a feral cat. Which is probably why I didn't start having kids until my 40th birthday. More on that later…
The irony is, after trying on several majors in college (which is like trying to find the perfect pair of jeans), I landed in Fashion Design & Theatre. My mom promptly gifted me with my first sewing machine. That period of my life jump-started my love of art, creativity, and imagination.
However, I've always enjoyed baking. Cookies, cakes, muffins…anything that involves flour, eggs, milk, and sugar. My first solo baking experiment was my mom's Pound Cake Recipe. I wrote about it here: 8 Ways to Get Grounded.
Last week, my daughter made her first pound cake! It warmed my heart to witness her dive in with so much enthusiasm. She loves baking as much as I do…not so much the daily cooking grind. Hmmm…the apple doesn't fall far from the tree. ☺️ Check out her creation: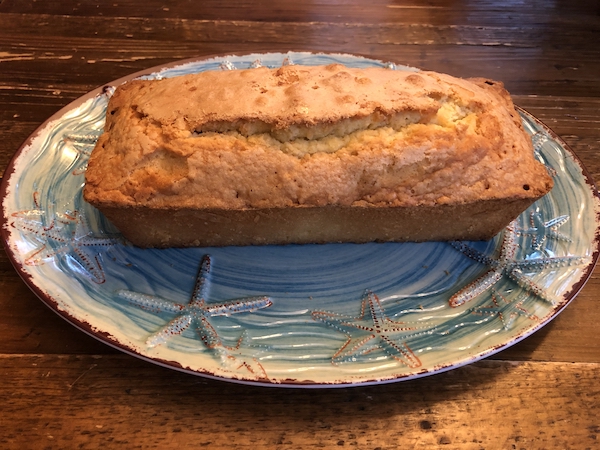 She wasn't happy with her frosting, but I was so proud…SHE DID EVERYTHING BY HERSELF. She even built little representations of each family member in each corner. So proud…give me a moment to wipe my tears…
One of her favorite YouTubers is Rosanna Pansino. When I showed my daughter the website that I used to create her Unicorn Cake for her milestone 10th birthday, she shouted, "That's Rosanna Pansino!!" …Like she had just seen Brad Pitt. Well, she wouldn't know Brad Pitt, but I would certainly fall on my face if I ever saw Mr. Pitt in person. It was like that…she was star struck.
"I can't believe you made my unicorn cake from Rosanna Pansino's video!" I had to correct her…
"No, I didn't watch her video, I read her blog post."
(Insert snark-astic 'tween look)
"Blog post?? Mom. Why didn't you just watch her video??"
Kids these days…they don't even know what a blog post is! All they want to do is smash their face against a screen.
Such a vastly different time. I tried my hand at computer programming in its infancy in the late 1970s. I had to write an essay on why I should stay after school in the 5th grade to learn how to program a computer. We're talking DOS here… I started my family at 40….remember? I was considered a "geriatric" mom at the hospital. 😆
But I digress…
I love weaving together different recipes, adding something new, experimenting, and coming up with my own concoction. I've honestly had a few failures (I'm no pro and usually take the easy road), but the stakes are pretty low with me when it comes to baking. It's really just a hobby to get the creative juices flowing, and engage with my kids. And it makes other people happy too!
I've made homemade cakes for my kids for almost all of their birthdays…
I did a whole Pinterest-worthy, Frozen-themed party for my daughter's 6th birthday that included the main cake, cupcakes, homemade treats & party favors, all revolving around the Frozen theme. That was an exhausting week. Sheesh. I don't go crazy like that very often. But it was easier than you'd think! Time-consuming for sure…but not that difficult. These things require patience.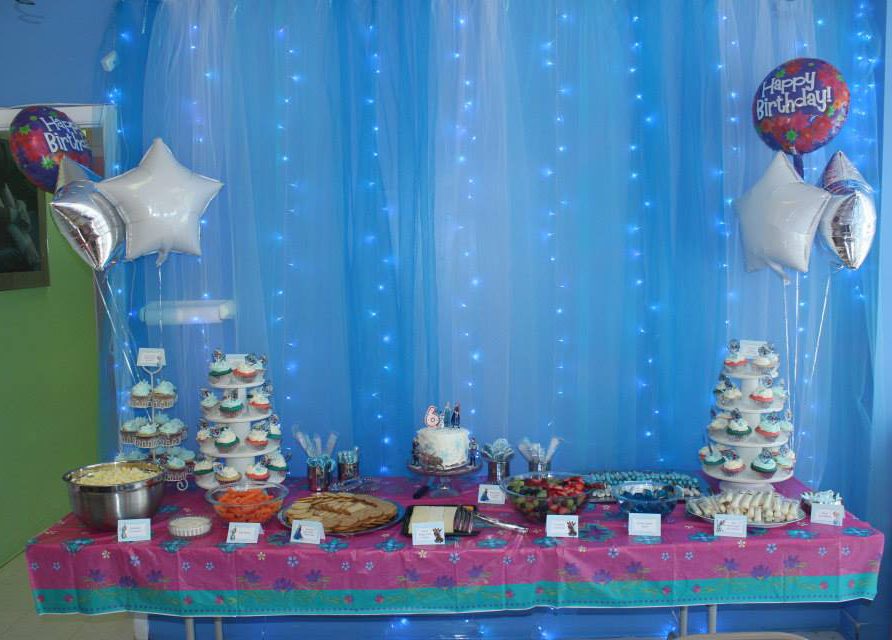 A few month's later, I made my son's first smash cake…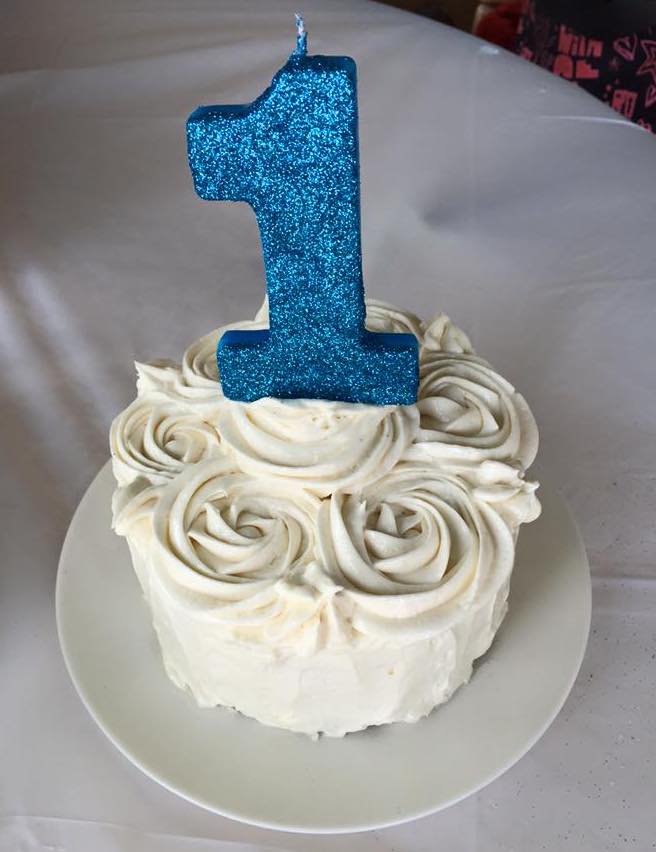 …And the birthday banners…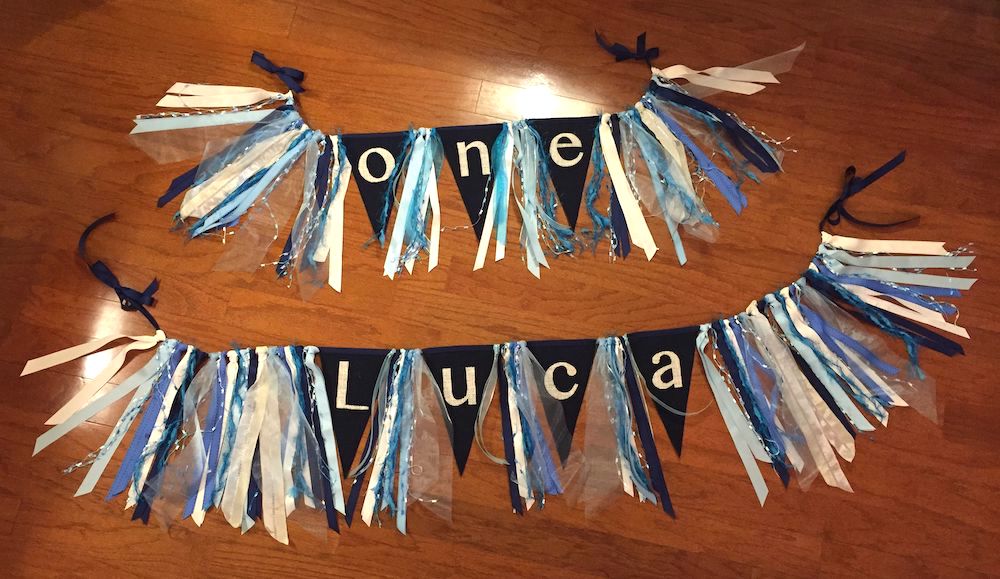 As you can see…I DIY a LOT of things for my kids ☺️
Here's the cool part…almost everything I do is THE FIRST TIME. It's not like I ever made fabric banners before…nor an entire Frozen themed party…or (unbeknownst to me) recreated Rosanna Pansino's unicorn funfetti birthday cake!
Not once did I ever think…hmmm…what if it doesn't work?
I prefer to dive in knowing it will work ENOUGH. And…any mistake can be fixed, covered up, or MacGyvered.
It's not rocket science.
A few years ago, we traveled overseas to visit my in-laws during our son's birthday. He wanted a PJ Masks cake, but I didn't have the resources to do it myself, so we had it made. I sent a few photos to a baker and they screened an image onto a sheet cake. It was fine. He was only 4.
But this year…to my surprise, he's revisited his love of the show during the Covid shutdown and is asking for a PJ Masks cake! He doesn't even remember the first one.
Yay me! I get a second chance!!
I made this amazing chocolate cake below for my husband's birthday in May and that's the kind I'll make for this one. Frosting will be buttercream/cream cheese with red, green, and blue food coloring.
Note: I am NOT a fan of food coloring for my kids but make exceptions for these types of occasions.
My biggest compliment came from my husband when he said, "This is the best cake I've ever had! This is better than our favorite cake we get at the store!"
My son took over cake designing on this one…this was ALL his idea. I just helped make it happen. ☺️
As you can see, we had a LOT of fun with this one! 💩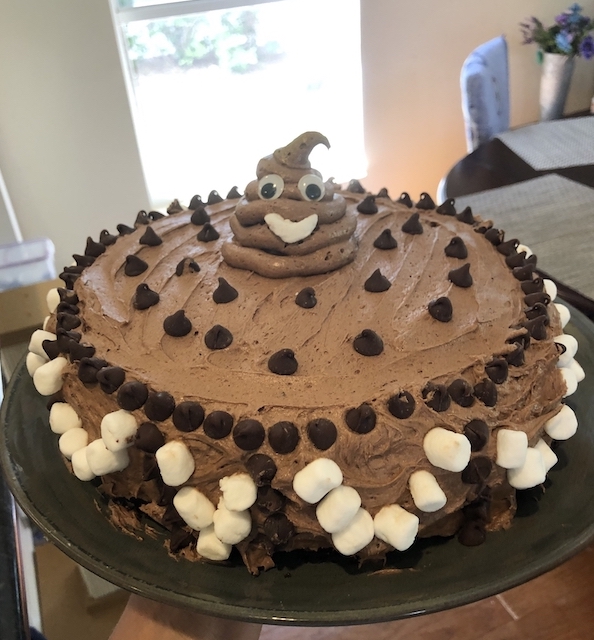 Okay, before we get to the recipe let's talk about mixers…
What Type of Mixer Should I Use?
You can use a stand mixer or an electric hand mixer. I wouldn't recommend making this cake without the help of one of these tools (i.e., you wouldn't get the consistency you need by mixing with a spoon).
I don't bake often enough to validate getting a stand mixer, nor do I want it taking up my small kitchen counter space. I use a hand mixer and it works fine. My old cheapie died on me over a year ago and I replaced it with this Kitchen Aid Hand Mixer. And…their customer service is spectacular…even during Covid lockdown.
It has a swivel cord (which is necessary), lots of useful attachments, and a digital display. My first digital! I love it, and I love the candy apple red color!
If my baking habit grows (or my daughter's for that matter), I would not hesitate to invest in the mother of all stand mixers: The Kitchen Aid. I can hear the angels sing when I think of this mixer. 💫 👼
Three Layer Chocolate Cake Made With Buttermilk, Banana & Fresh Strawberries
Ingredients:
Dry:
6 cups all-purpose flour
3 cups granulated sugar
3 cups unsweetened cocoa powder
2 tablespoons baking soda
3 teaspoons baking powder
3 teaspoons salt
Wet:
6 large eggs
½ cup mashed banana
3 cups buttermilk (see below for instructions to make buttermilk from regular milk)
3 cups hot water
1 cup vegetable or canola oil
4 teaspoons vanilla extract
Optional: ½-1 cup semisweet chocolate morsels
Easy DIY Buttermilk
No Buttermilk? That's easy! You can make it in two ways:
Whole Milk with Lemon Juice
Add 1 tablespoon of lemon juice to 1 cup of regular, whole milk.
Stir and let stand for 15 minutes.
Whole Milk with White Vinegar
Add 1 tablespoon of white vinegar to 1 cup of regular, whole milk.
Stir and let stand for 15 minutes.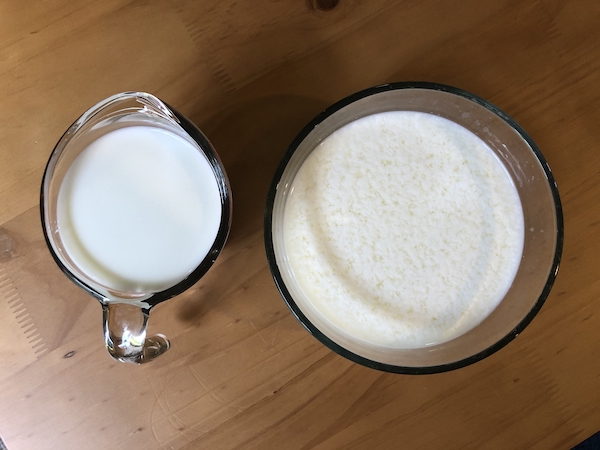 Either of these easy recipes will make the milk curdle and get clumpy. Voila…Instant buttermilk!
Cake Instructions:
Preheat oven to 350 degrees Fahrenheit. Butter three 9-inch cake rounds. Dust with flour and tap out the excess.
Butter & flour baking pans.
Whisk all dry ingredients, one-by-one, until well-blended:

Flour, sugar, cocoa, baking soda, baking powder, and salt. Set aside.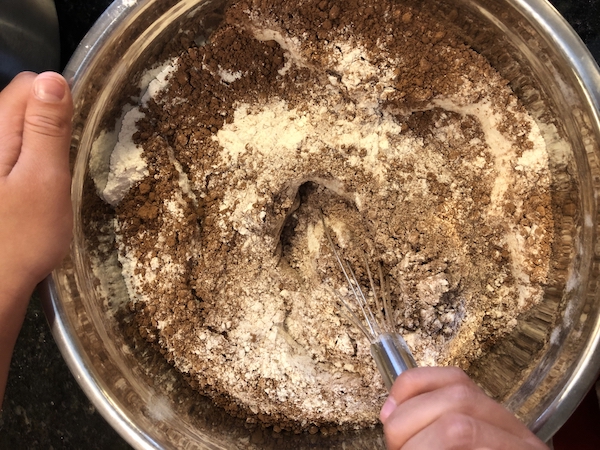 In a separate bowl, whisk eggs until light and frothy.
Add 1/2 cup mash bananas to eggs and mix with blender.
Add buttermilk, oil & vanilla to egg/banana mixture and beat on medium speed until smooth – 2-3 minutes.
Add hot water and beat for one (1) minute on high speed.
Add dry ingredients to wet ingredients 2 cupfuls at a time and mix on low speed.
Once all the dry ingredients have been incorporated into the wet, beat on medium speed for two minutes until smooth.
Optional:

Coat chocolate morsels with flour (so they don't sink to the bottom of pan while cooking).
Gently hand fold morsels into the batter…do not overmix. (You might wipe the flour coating off.)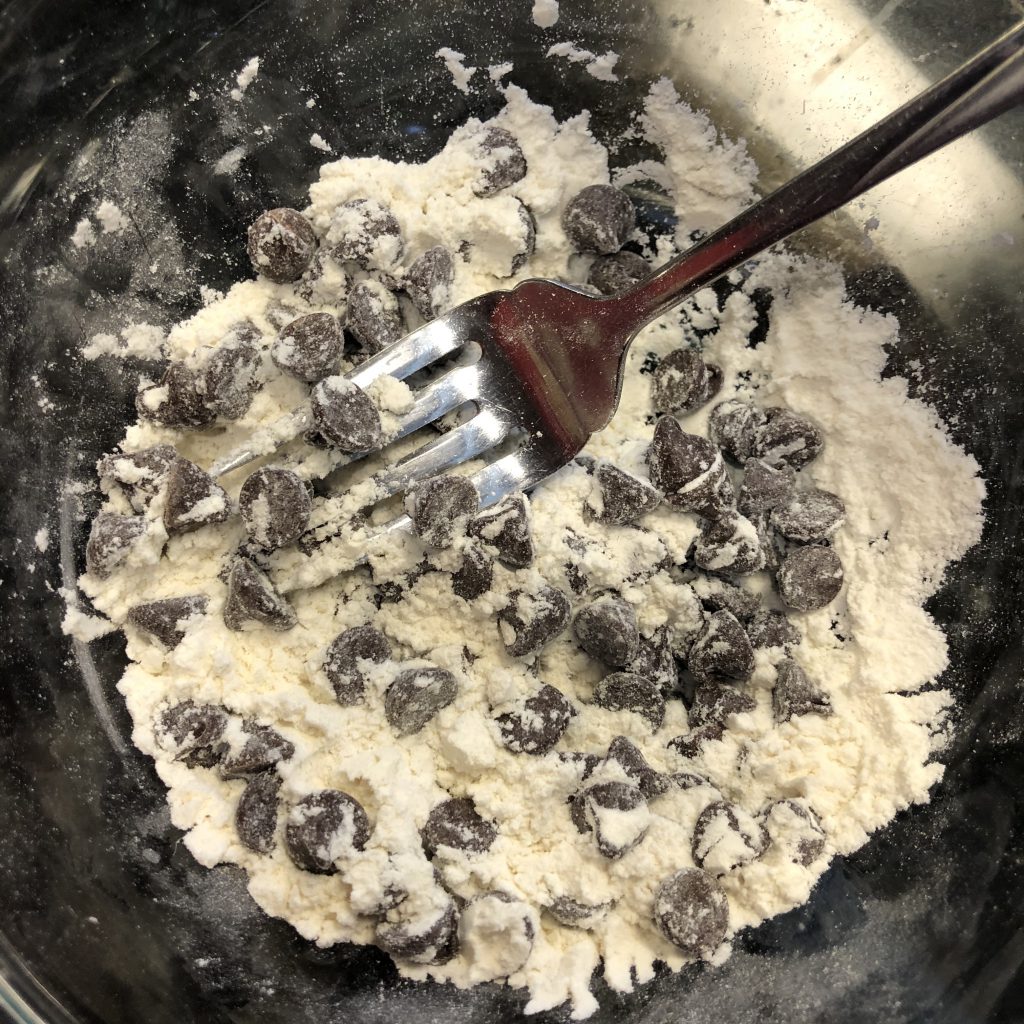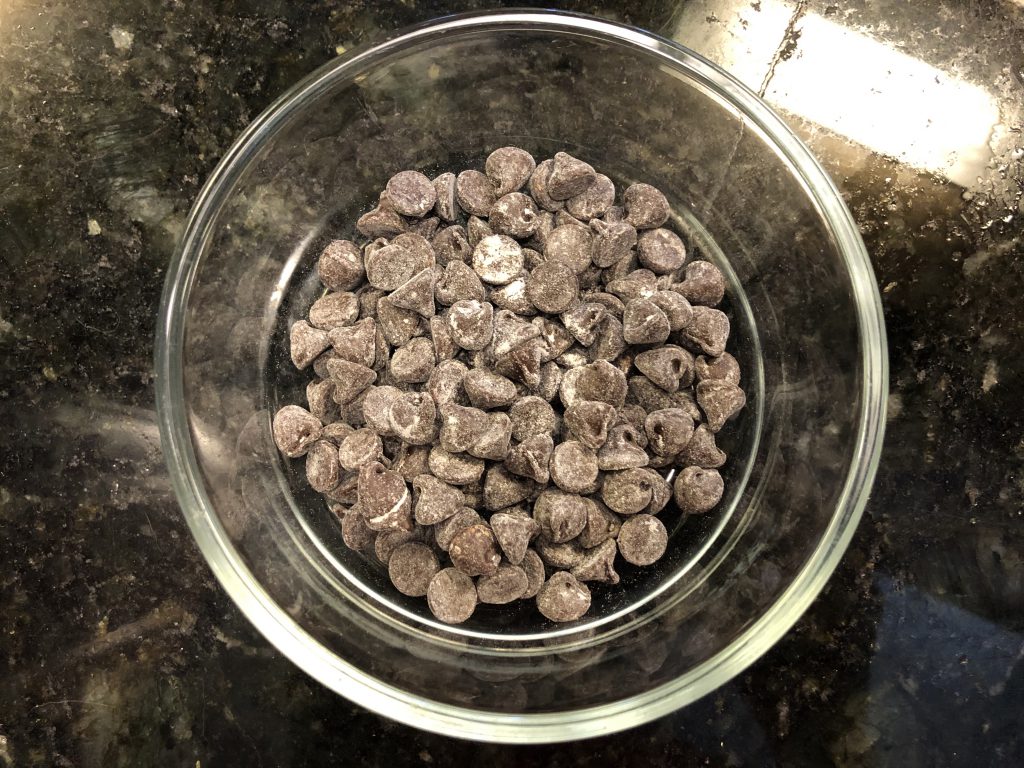 Full Disclosure: We dropped the morsels onto the top of the batter in the pans because we forgot to add them. I used a straw and pushed them slightly into the batter before baking.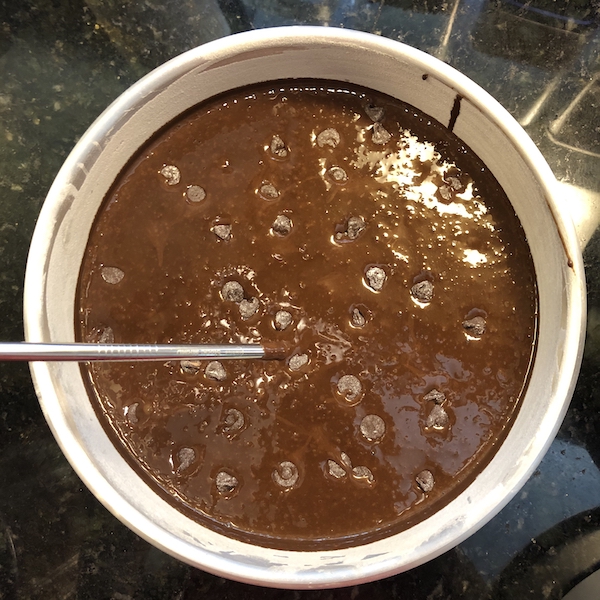 Fill three 8" x 3" round pans, filling them half full.
Bake 35-40 minutes (I suggest setting your timer to 20 minutes and start checking for doneness.)
Check by inserting a toothpick into the center. If it comes out clean, you're done! If it's wet, keep the cake in another 2-4 minutes and check again. Always use a clean toothpick for each round.
If you have to put your cakes on different racks, one might bake faster than the other. If so, set your timer for 15-20 minutes then switch racks.
Once cake is done, cool on wire racks 20-30 minutes before trying to remove from baking pans.
You can then put cakes in the refrigerator to cool for another 20-30 minutes before frosting.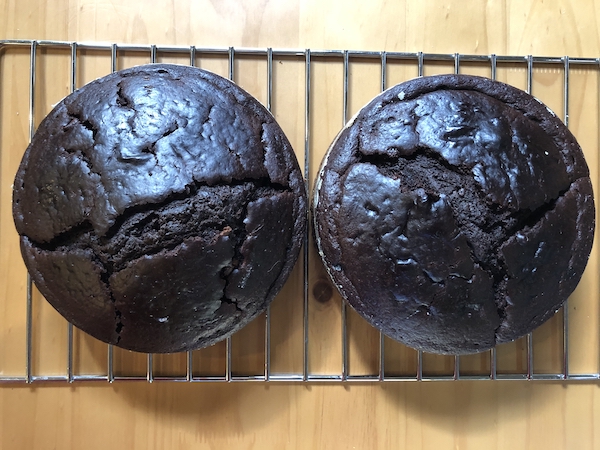 This recipe yields approximately 4-5 cups of batter for each cake pan…enough for three 8" x 3" or four 9"x 2" cake pans.

You'll probably have a little leftover for fun mini cakes…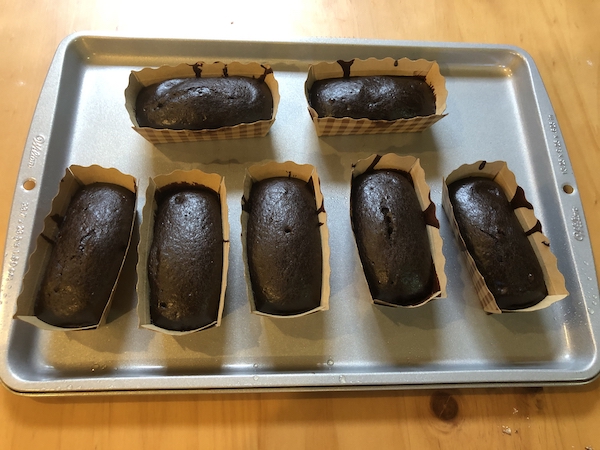 …and even Cake Pops!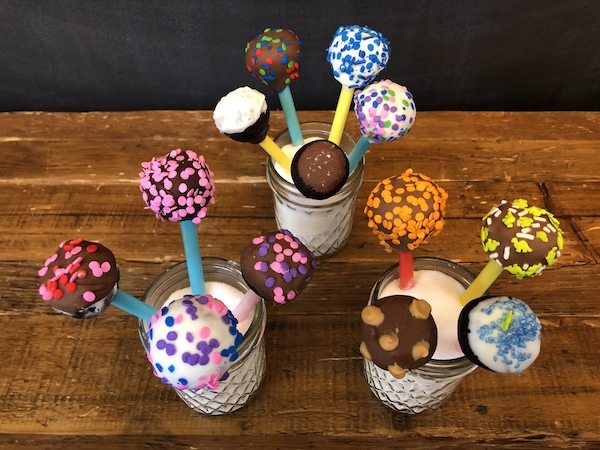 My son and I spent an afternoon baking the cake. He LOVES donning an apron and digging his hands in flour. But I promised my daughter we would decorate it together so it would be a surprise for her little brother.
So, we put all the layers in the refrigerator overnight to chill. Click here for the next post with the frosting recipe and decorating instructions:  How to Frost & Decorate a Professional-Looking PJ Masks Themed Birthday Cake!
I hope you enjoy this cake as much as my family does…Happy Baking! 🎂