Made With the Best, Pipeable Cream Cheese Frosting!
Last week, I showed you how to bake a YUMMY three-layer chocolate cake. In this post, I will go over how my daughter and I designed and frosted the easiest PJ Masks cake ever! And it looks like a professional did it!
I prefer cream cheese frosting for almost everything. I've always leaned towards savory flavors over sweet. Cream cheese cuts the uber-sweetness of the powdered sugar in buttercream frosting. When I was a kid, I used to scrape most of the frosting off of cakes and just devour the cake itself. My daughter is now following in my footsteps. ☺️
Here is the recipe for the yummiest frosting!
Buttercream / Cream Cheese Frosting
Ingredients:
2 cups unsalted room temperature butter = 4 sticks (don't use margarine)
1 cup salted room temperature butter = 2 sticks
24 ounces full fat cream cheese = 3 bricks
4 ½ teaspoons vanilla extract
12 cups powdered sugar (AKA confectioners sugar)
Decorate with red, green, and blue confetti sprinkles and Peanut M&Ms.
Optional: thinly sliced, fresh strawberries.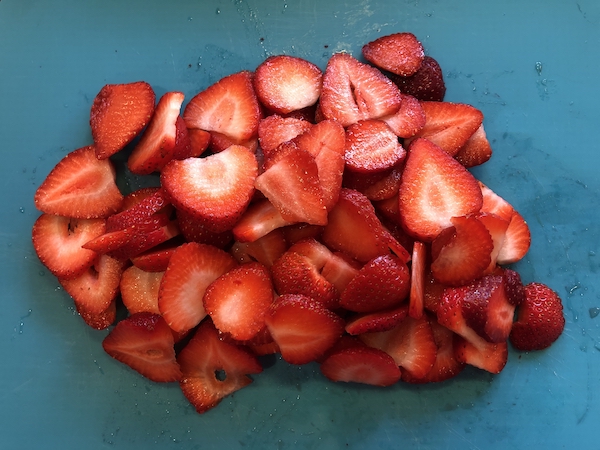 Instructions:
Using an electric hand mixer or a stand mixer, mix the softened (room temperature butter) until light and fluffy. 2-3 minutes on medium-high speed. Stop occasionally to scrape down sides of bowl.
Add the slightly chilled cream cheese. Should be almost room temperature but not completely soft. Don't worry, it's not rocket science, it will work either way.
Add vanilla.
Mix on medium speed until creamy (don't over mix).
Gradually add powdered sugar, mixing at low speed, 1 cup at a time until you've added 10 cups, scraping sides as you go.
Slowly add ½ cup at a time until you get the desired thickness & consistency. You may have to use more or less than 12 cups.
If using a hand mixer, change setting to low and slowly pull the beaters out of the bowl. If cute little swirly peaks are left, it is ready!
Tip: Scroll to the bottom of this post for tips on making your frosting more pipeable.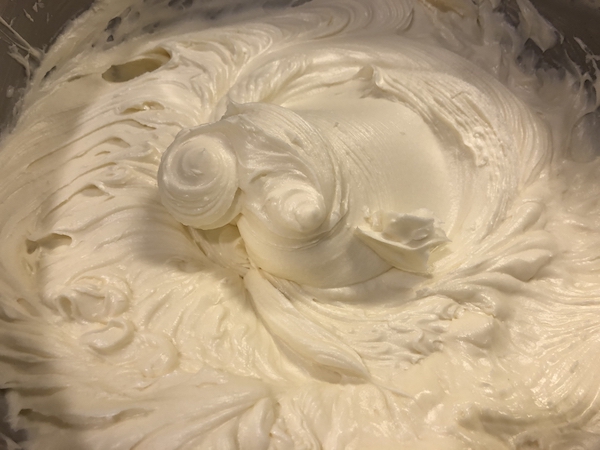 STEPS FOR FROSTING
1. Leveling the Cake
Leveling a cake is simply cutting off the dome shape of each cake layer that formed in the oven to make a flat top. That way, you can stack the layers on top of each other and the cake won't be lopsided.
It's best if you have some type of turntable for leveling your cake. You can got out and buy an inexpensive cake turntable, but I've always used my round wooden turntable that has been sitting on my dining room table for the past six years. Since the kids stopped going to school in March, everything has become out of place, lost, broken, or repurposed. And…my turntable decided to visit the twilight zone the week before my son's birthday… Murphy's Law. 🙄
I tore the house apart but gave up after wasting too much time looking for it. I thought about what would smoothly spin in a circle on my counter, and…ding ding ding! It hit me…
Microwave!
I pulled out the circular turnstile on wheels under the glass plate, popped a silver serving tray on top and Voila, instant turntable!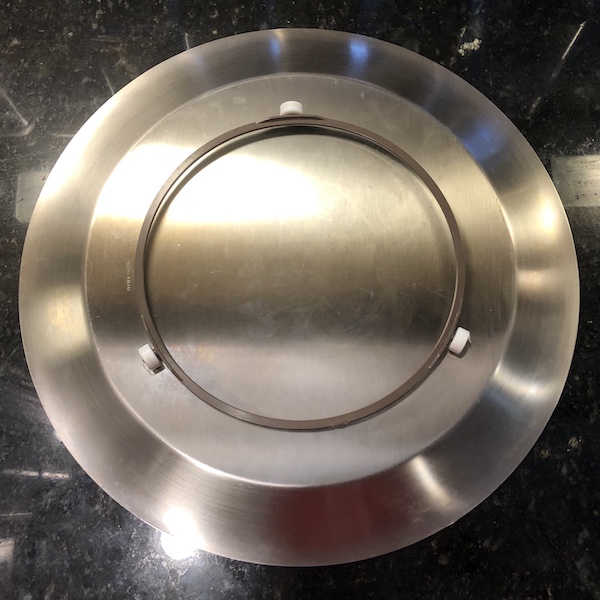 Tip: Don't forget to replace the turnstile in your microwave before your husband tries to warm up his lunch! 😬
Some bakers use a cake leveler to make sure the cake pieces are perfectly horizontal or flat on top. Since I'm usually winging it and don't want to clutter up my kitchen with random objects that only serve one purpose…I just use a serrated bread knife.
Leveling Steps:
Put the cake layer in the center of your turntable.
Place your hand on top of the cake for rotating.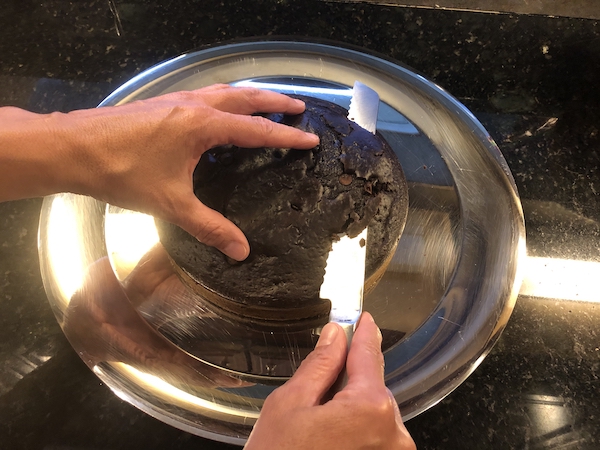 Insert knife, horizontally, at the top edge and cut across the dome-shaped top like a saw as you rotate the cake.
You can check the level with a ruler on each side and even it out if you want to be precise…I just get down to cake level and eyeball it.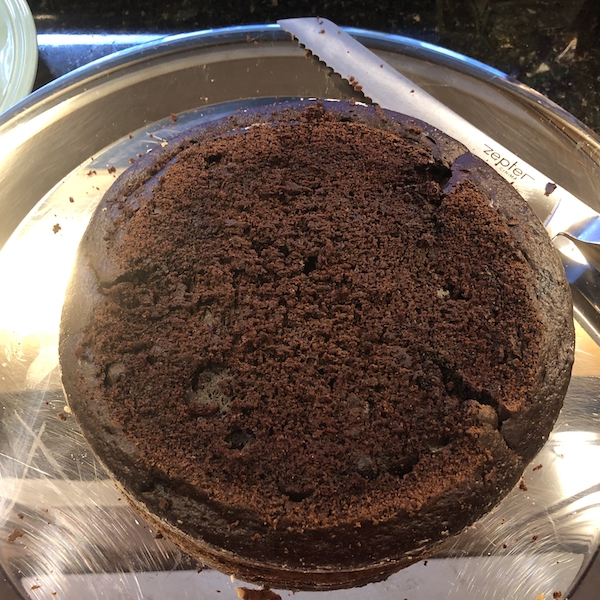 What to do with all the leftover cake you just cut off? Make Cake Pops! Click here for a tutorial.
Because this whole PJ Masks birthday cake was my daughter's idea and a work-in-progress from the word, "Go," we decided to do a crumb coat first and make our design plan while the layers were freezing.
What the heck is a 'Crumb Coat'?
I'm glad you asked. It will change your life… 😉
2. Crumb Coat
This step seals in the crumbs and makes decorating a cake SO MUCH EASIER. I wish I had known about this when I was younger.
Although, there was no such thing as YouTube then. Heck…we only had one phone in the house, and it was attached to the wall. My 11-year-old can't even comprehend that.
What? ONE PHONE?! For SEVEN people?!? And it's attached to the WALL?!?!?
Hard to believe myself some days.
So…how do we DO this magical thing called a CRUMB COAT?
Let's start with the tools you'll need to frost your cake…
Tools:
There are a few tools you can use to frost your cake:
You can frost any cake with a thin spatula… I use silicon spatulas, a lot.
A butter knife always works, if that's what you have on hand.
Plus, it makes me feel important when I frost with my offset spatula.
My daughter is the one who told me it was called an offset spatula.
In fact, she said "offset spatula" to me about thirty times while we worked on this cake. I think she likes to feel important too. 😁
Offset Spatula's rock.
Crumb Coat Steps:
Spread a thin layer of frosting over each layer of cake, making sure to cover the entire top and sides of the cake.
Flash freeze for 10-15 minutes before moving on to the next step.
OR
Refrigerate overnight.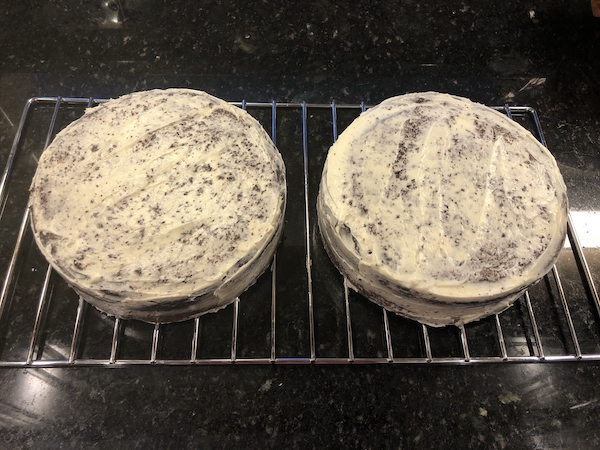 This sets the crumbs and prevents them from getting all mixed up in your frosting. It really stinks when you take the time to create a beautiful cake and it gets ruined by crumby frosting.
3. Stack Layers
Spread a thin layer of frosting directly on your cake stand or cake plate…whatever you are using to serve your cake.

You don't want to frost your cake and then attempt to transfer your masterpiece onto another serving dish. That could be a disaster. 😬
Tip: To keep the plate clean, cut small pieces of parchment paper and layer them, overlapping, around the cake stand or plate you're using. When you're finished frosting the entire cake, you can easily slip them out and, Voila! You'll have a clean surface around the base of your cake!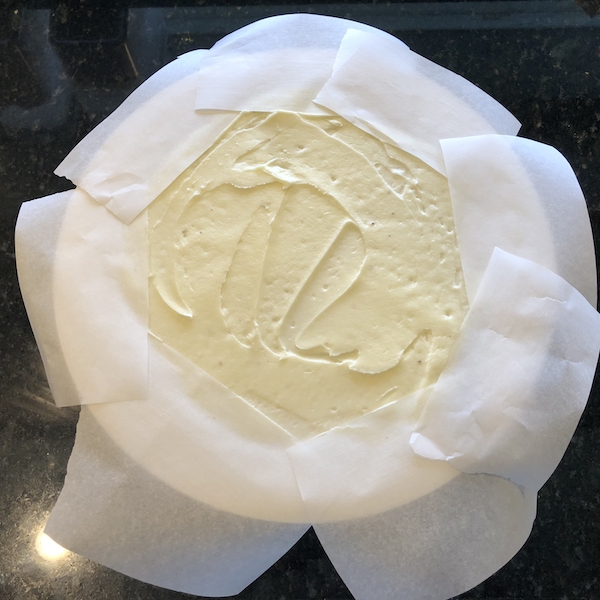 Place the bottom layer on the cake stand.
Spread a thick layer of frosting on top.
Optional: Add a layer of thinly sliced strawberries in between layers for a fresh taste. Mmmm…cream cheese and strawberries are yummy!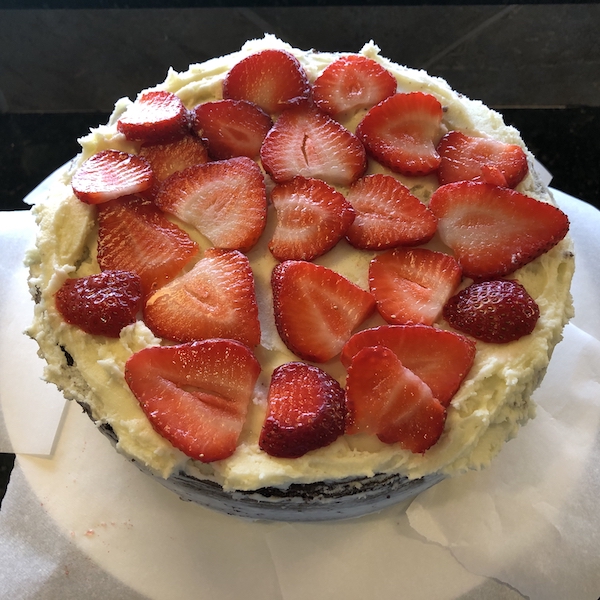 My daughter had the brilliant idea to use our piping bags from our Wilton Decorating Kit to add another layer of frosting over the strawberries so they wouldn't smear all over the place.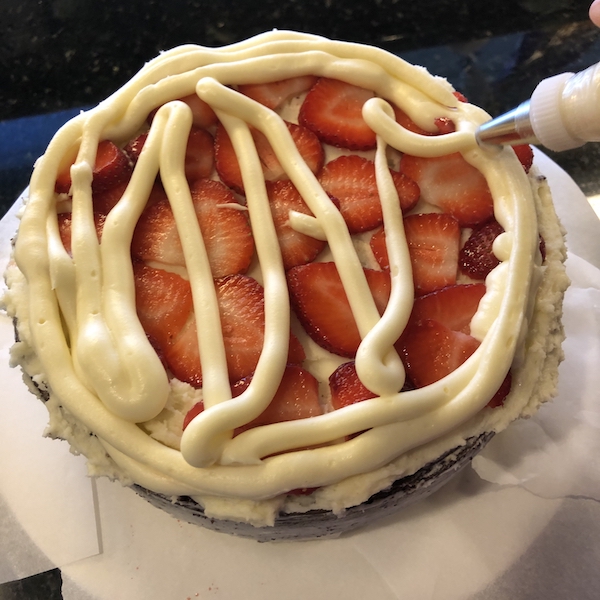 Then we spread it evenly with the offset spatula. So much easier…the strawberries didn't move around.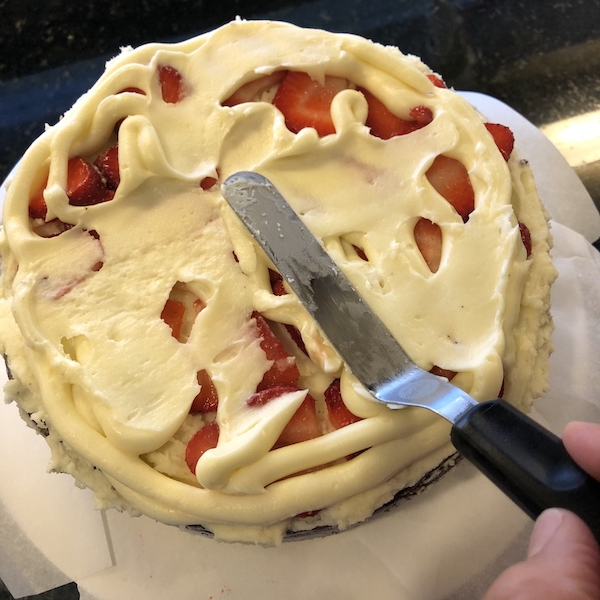 Stack the next layer, top side down, on the first layer to the bottom is now the top (this makes the top perfectly flat)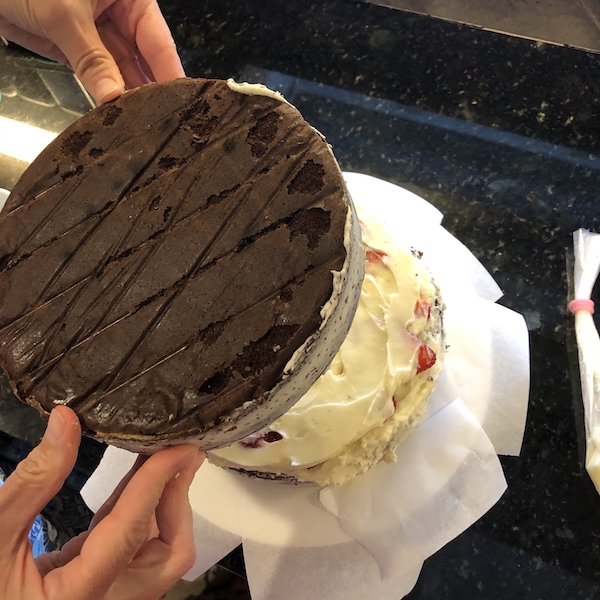 REPEAT: Frosting – strawberries – frosting.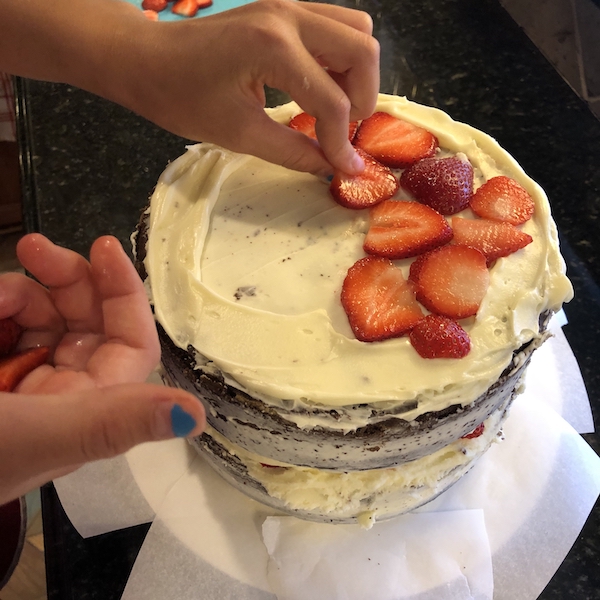 Stack final layer top-side down on the second layer.
Frost the entire cake and put in freezer.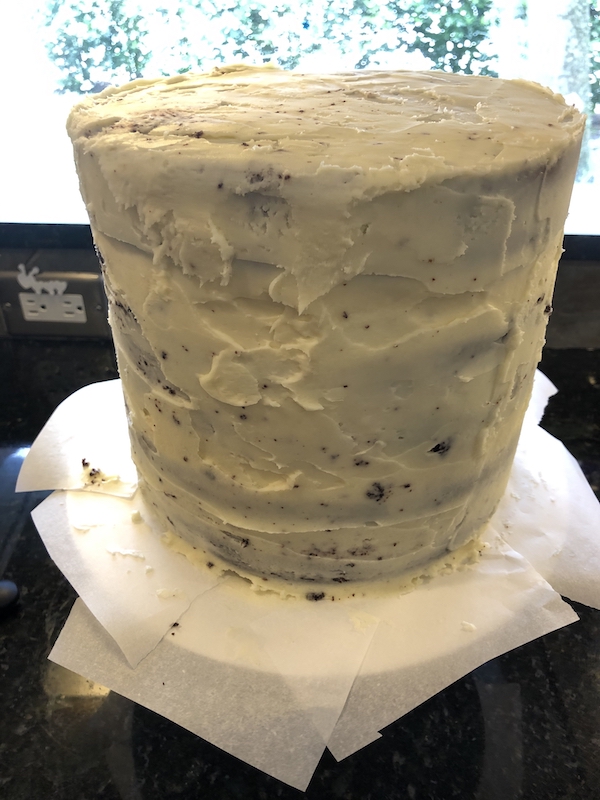 My Wilton Decorating Kit has been great! It has the basics and I've not needed much else. However, I see that it's harder to find now and think this new kit would be a great addition to anyone looking to experiment with making their own cakes: Wilton How To Decorate Cakes and Desserts Kit
Onward to Frosting & Decorating!
4. Frosting the Cake
My daughter and I discussed how to design the cake. We decided to put Blue on top (for Catboy, my son's favorite character), then Green (Gekko), and Red (Owlette) on the bottom.
We measured the height of the cake, divided it by 3, then marked a line in the frosting to indicate each layer of color. (see Owlette's Wings photo below)
You will need food dye to make the PJ Masks Blue, Red, and Green colors. They are very bright, so gel food dye works best and can be found at any grocery store, or you can buy it by clicking here: Betty Crocker Classic Gel Food Colors
Tip: In between each frosting layer, we put the cake in the freezer for 10-15 minutes to set frosting. That gave us enough time to mix the next color and make our plan.
Owlette (Red)
We worked from the bottom up so the top wouldn't run down while we frosted the rest of the cake.
I wanted the color to be darker, but my daughter insisted that Owlette's color was more like a rose/pink than dark red.
Tip: Don't be afraid to use an entire tube of gel to get the depth of color you want. As I said in my last post, I avoid food dyes but make exceptions for birthdays.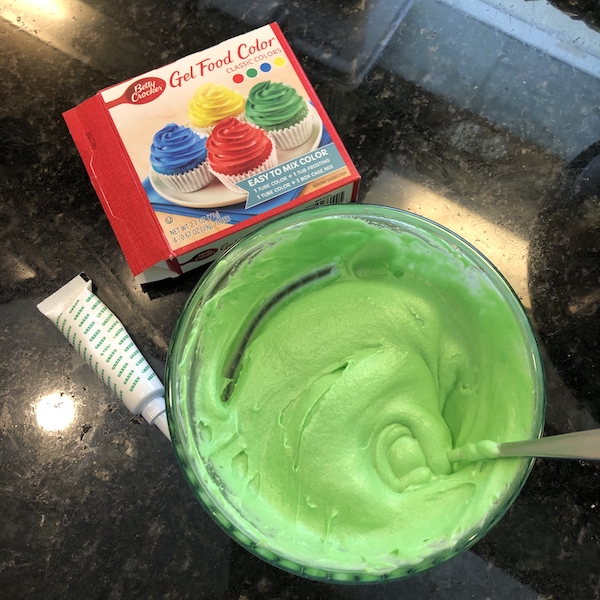 How to Make Owlette's "Wings" Pattern:
We discovered this by accident! And it's so easy!
I started spreading the red frosting up and down along on the bottom layer with my offset spatula just to get it covered. My daughter said it looked like Owlette's wings, so we kept it!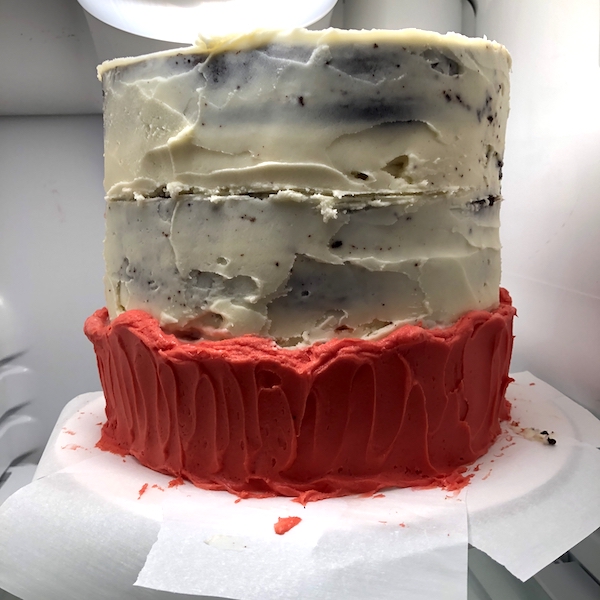 Pop in freezer to chill for 10-15 minutes while you mix the green for the next layer.
Gekko (Green)
Piping Bag Tips:
Use a tall glass to put the frosting into the piping bag. Fold the bag over the edge of the glass to fill, then twist closed, or use a hair tie or rubber band to secure.
No Piping Bag? No Problem!
Spoon frosting into a Ziplock bag, squeeze the air out of the bag and seal, snip one corner at the bottom and use that for making large dots of frosting!
How to Make Gekko's "Scale" Pattern:
My daughter squeezed a circle of green frosting.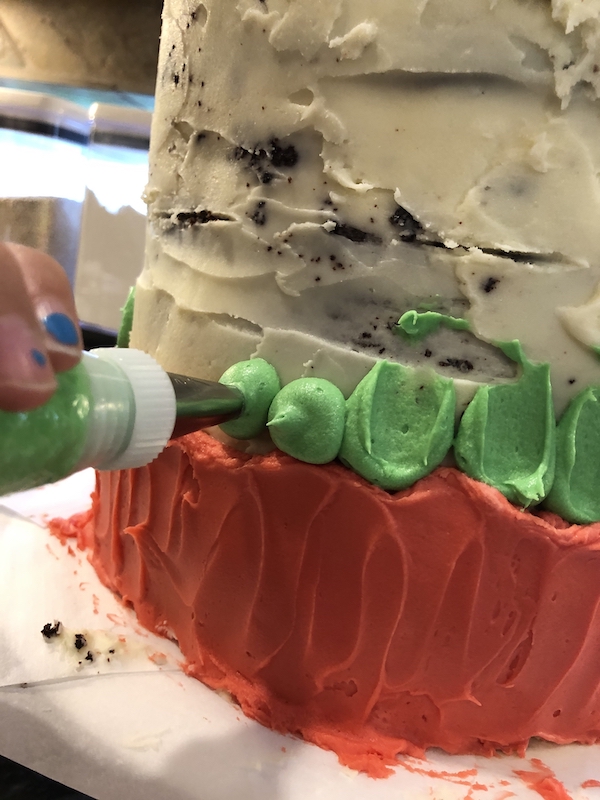 I swiped the dot up with the offset spatula to create the "smear" look, which we both thought looked like lizard scales. Easy peasy!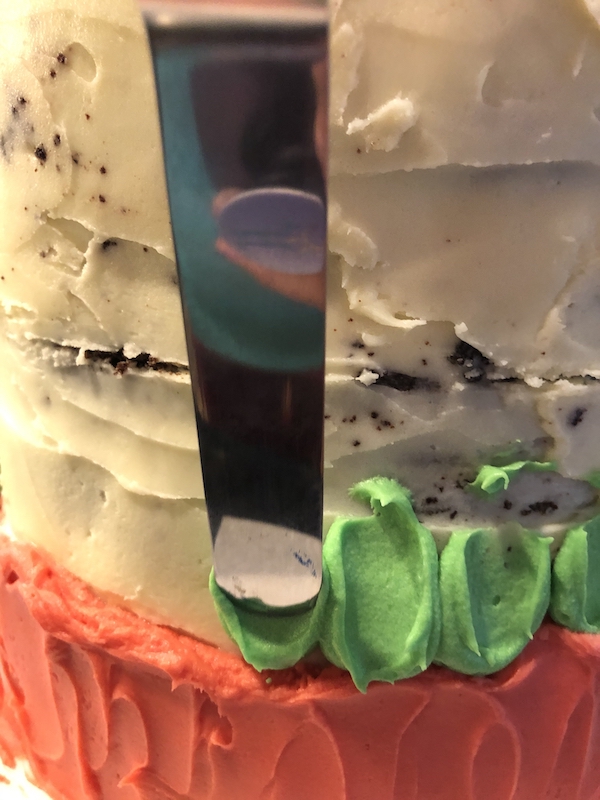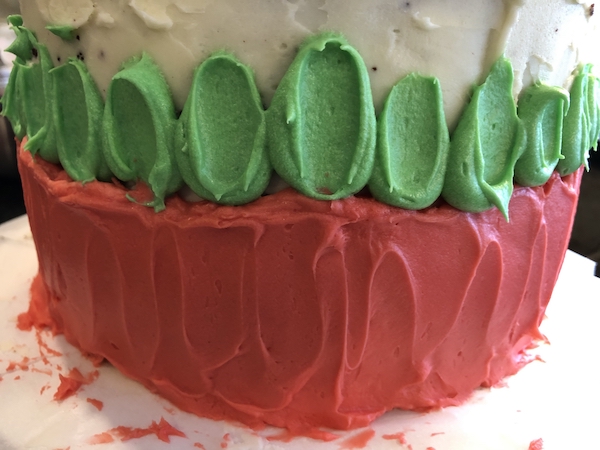 It took two rows of scales to fill the space for this layer.
My daughter added stars to fill in the gaps along the top row of scales with the Wilton #18 Decorating Tip.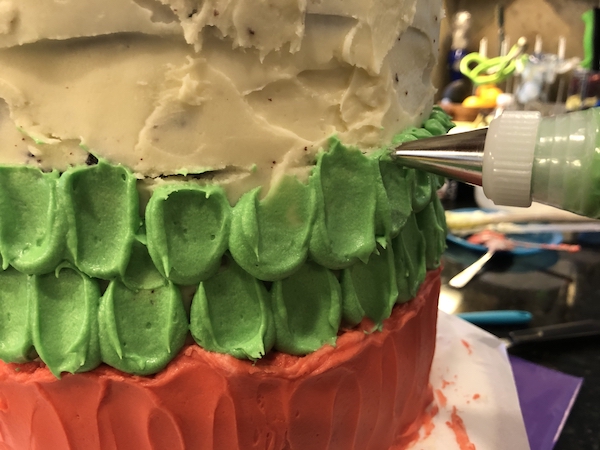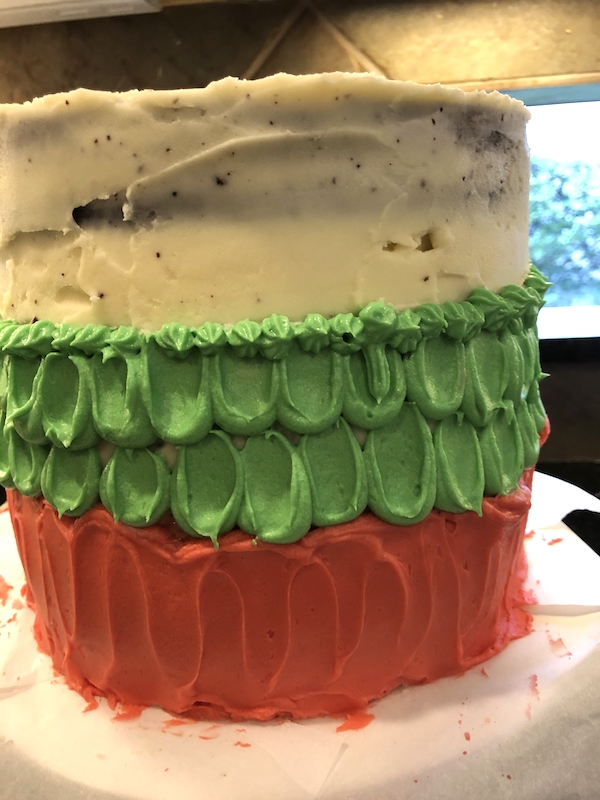 Catboy (Blue)
We used almost an entire tube of blue gel to get this color.
First, I piled frosting on top of the cake and started covering this layer with blue, careful not to let too much spread down into the green layer below.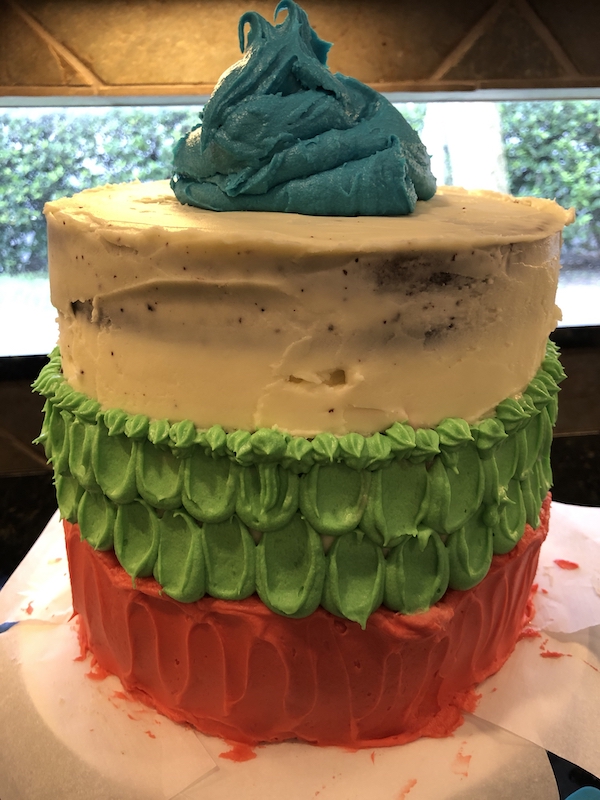 How to Make Catboy's "Stripe" Pattern:
After mixing a lighter blue frosting batch to make his "cat stripes," we decided that would require precision that neither one of us had the patience for.
We opted for simplicity instead…
I began making swipes in the frosting from the bottom edge of the layer to the top edge of the cake, at an angle, as my daughter turned the cake stand. (We were mimicking the technique we used to create Owlette's "wings" on the bottom layer.)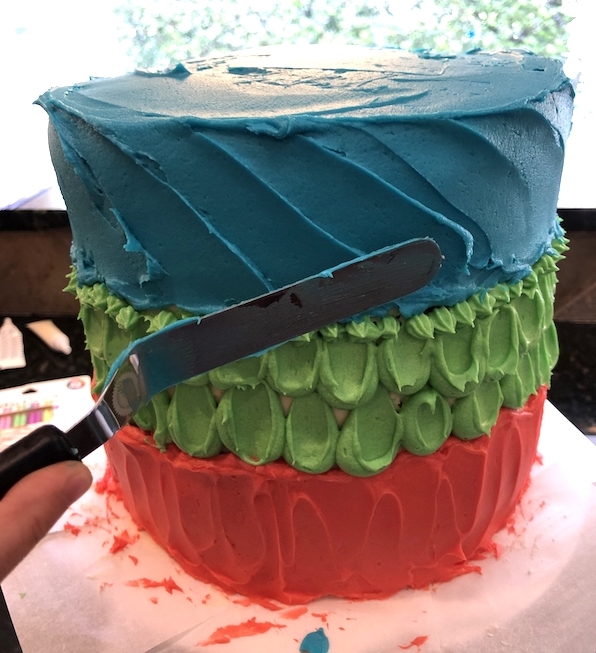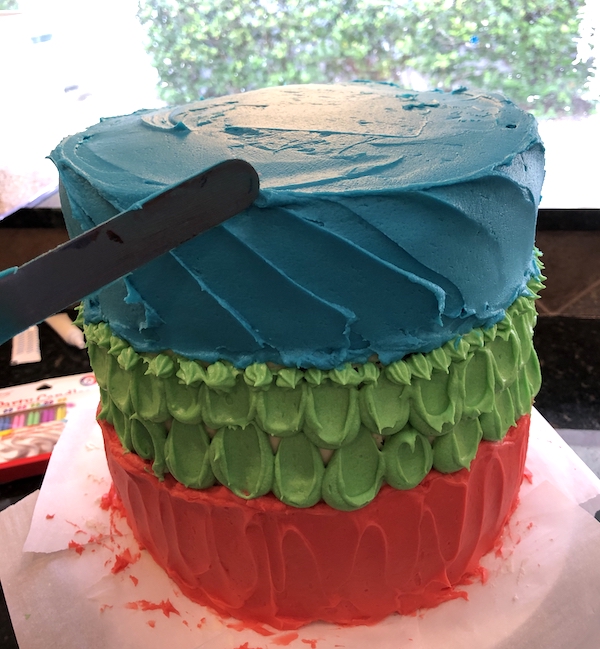 The frosting needs to be pretty thick for this technique to work, but it was very easy to get the look we wanted!
To fill in the gaps between the blue frosting and green "stars" layer underneath, we used the small round, Wilton #3 Decorating Tip and my daughter made tiny blue dots all around the cake. When her hand cramped up, I had to take over. That's a lot of tiny dots! 😅
5. Decorating the Cake
Bottom of Cake:
We decided to use the light blue frosting we had prepared for the cat stripes along the bottom to fill in the gaps between Owlette's layer and the cake stand.
We wanted to incorporate Peanut M&Ms into the design on the bottom because they're so big & bold (compared to regular M&Ms). Let's face it, this is a bold cake! What is it they say…? Go big or go home!
We separated the M&Ms into red, green, and blue colors first.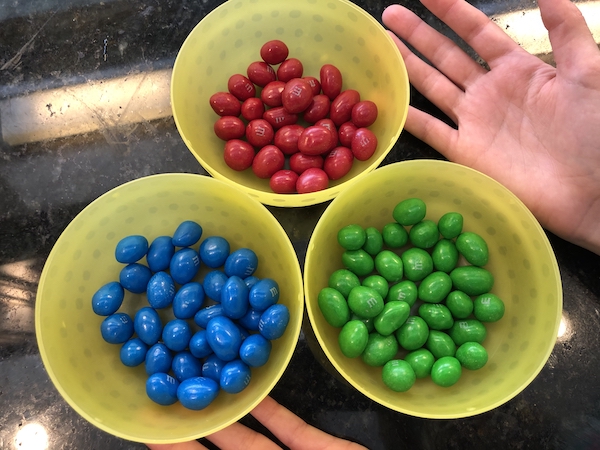 First, we removed the parchment paper from the bottom of the cake and wiped off any stray frosting.
Then, my daughter used the round, Wilton #12 Decorating Tip again and squeezed a large dot all along the bottom edge of the cake.
While she was squeezing dots, I pushed a Peanut M&M into them, printed side facing in. We used the same pattern as the frosting layers: Red, Green, Blue.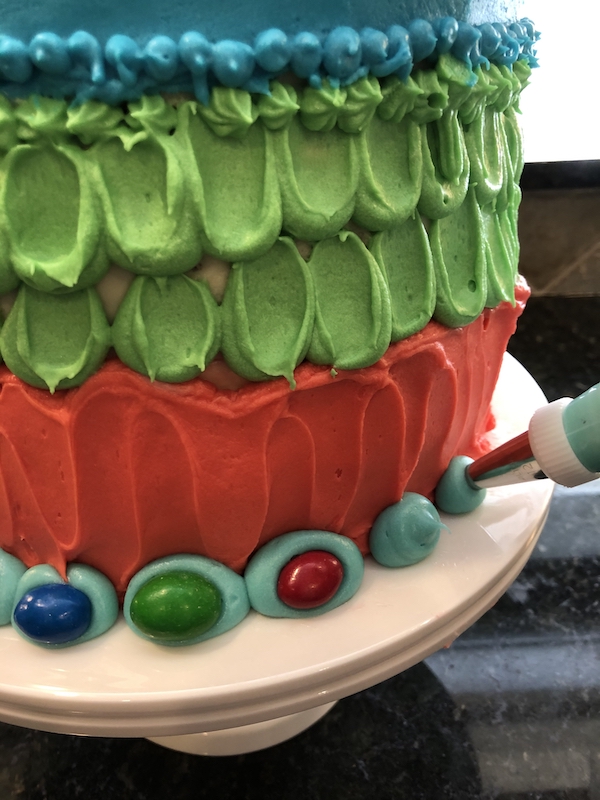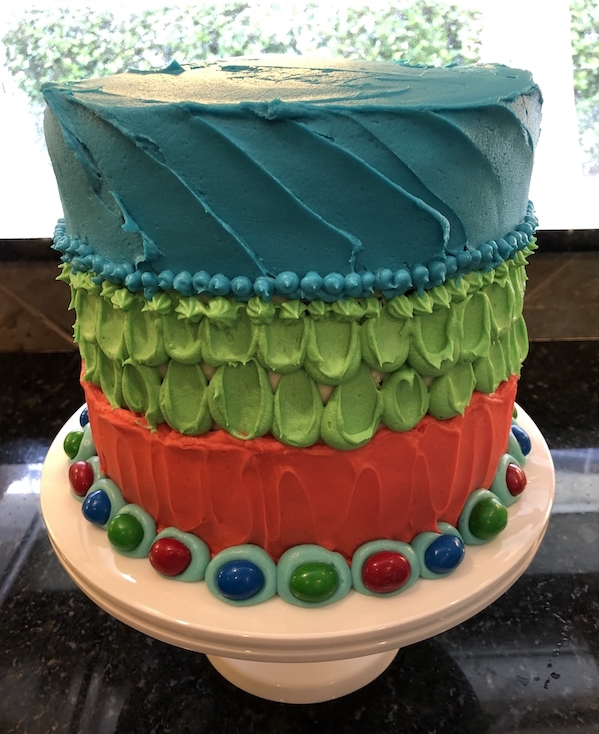 Tip: Decide which side of your cake will face the front. We started placing the M&Ms in the back so the pattern wouldn't get messed up at the front of the cake.
Top of Cake:
So simple…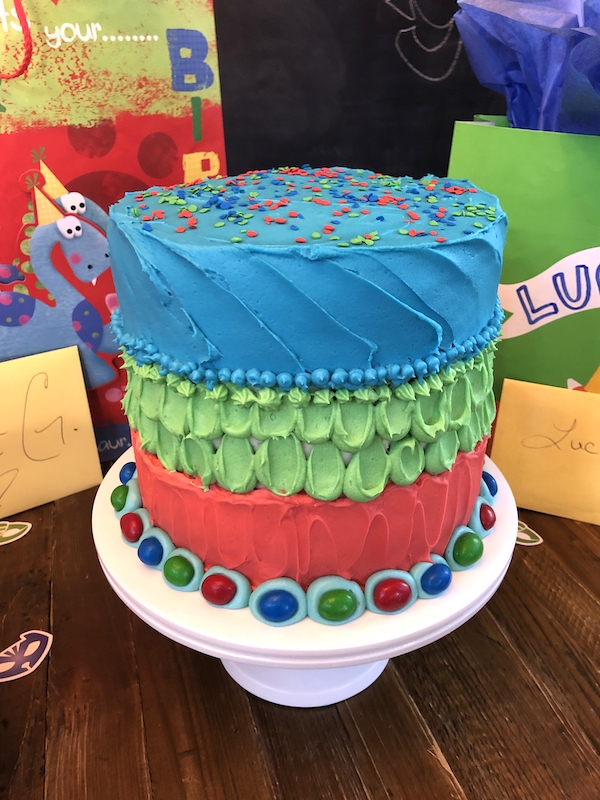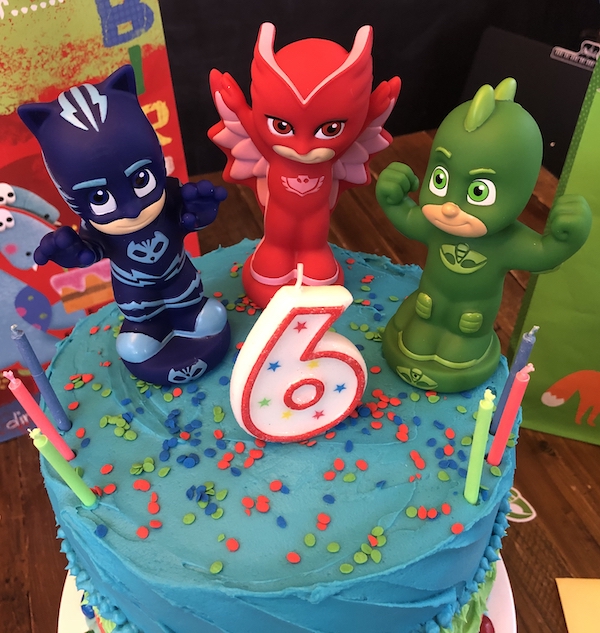 Add candles… and you are DONE MAKING THE CUTEST CAKE EVER!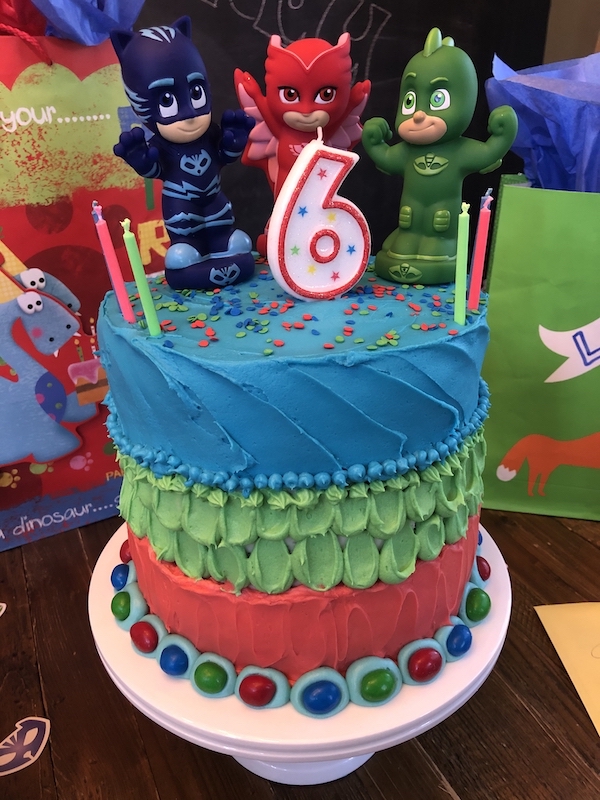 Se the amazing cake recipe here: How to Make an Awesome PJ Masks Themed Chocolate Birthday Cake
How To Make Your Frosting More Pipeable:
If you're struggling with piping the frosting, remember, practice makes you better…NOT perfect, but better able to find solutions. Here are some tips that might help…
My mom's tip: Try chilling the bowl & your mixer blades before making the frosting. It will help the frosting keep its firmness.
Use full fat, brick cream cheese (not whipped, spreadable, or low fat). Bricks have the least amount of water, which helps avoid runny frosting. (ew)
Use room temperature butter and slightly chilled cream cheese for firmer frosting. Let the butter sit out overnight if possible and let the cream cheese sit out for
I use half no salt butter and ½ salted butter. Salt helps stabilize frosting if it will sit out for a long time before melting off the cake (like for weddings). But if you want to use all no salt butter, that will work too.
Whip the butter first for 2-3 minutes before adding the cream cheese. If you beat cream cheese too long, it will get too runny and not hold up well for frosting or piping.
Start mixing with the beater attachments, then end with the whisk for fluffier results.
Don't overwhip the frosting! The second you see it forming fluffy, stiff peaks, turn off your mixer!
Use Gel food coloring. Liquid color will just make it runnier and gel colors are more vibrant!
While frosting, if it gets too runny, simply chill for 10-15 minutes and it will stiffen up, but don't over chill it as it will be too hard and you'll have to soften it up again.
This probably seems like a lot of work for an "easy" decorating job… but trust me, it's much easier than it seems!
Again...it's just time-consuming. So give yourself a break, schedule plenty of time, hang out with your kids, and make a mess in the kitchen.
Yay for cake!
Please try this recipe and let me know how it goes…what did you do differently and what did or didn't work for you?
It's all about having fun. Remember… ANYTHING can be covered up with frosting or decorations!
It doesn't have to be perfect. Your kids don't expect that and neither should you.
Your kids will LOVE it no matter what. And, you'll have the best time ever if you let go of perfection.
Not go out there and frost some cake! 🎂