Washable with Nose Wire & Filter. Includes Hand Stitch Tutorial in Video Link.
Homemade Masks Are a Last Resort
There, I said it.
You should not rely on your homemade mask alone to protect you from contracting the Covid-19 virus. Please practice self-quarantine and social distancing guidelines recommended by the CDC.
Stay home unless absolutely necessary. No sneaking out for private parties. Seriously.
Remain at least 6 feet (2 meters) away from people when you have to leave the house.
Wash your hands, people. See the guidelines in the above CDC link.
Let's all behave like grownups and follow these simple rules.
That being said, any mask is better than no mask at all. Now that Trump made a complete reversal and recommends everyone wear cloth face coverings in public, it's good to know how to make your own.
Quick Links:
– Click here to jump straight to the video.
– Detailed written instructions.
– Free printable patterns.
N95 Respirators versus Surgical Facemasks
N95 respirators are not the same as surgical facemasks.
N95 masks are designed to filter out at least 95% of very small particles (0.3 microns). That is super small! They also form a fitted seal around the nose and chin.
Surgical face masks are loose-fitting and disposable after one use. They block larger particles and are intended to shield others from any potential infection if the wearer coughs or sneezes. This is very important to prevent the spread.
Please check out this #Mask4All video.
I'm going to show you how to make a surgical type of mask that is form-fitted.
I saw a video clip the other day of a man who tied a tennis shoe around his face. Wait, WHAT? I promise… a comfortable, snug-fitting DIY face mask is much better than smelling your own feet.
But where do we start?
Anna Davies is the lead author in a 2013 study of the efficacy of homemade facemasks at the University of Cambridge. (actual article in PDF:
Davies tested various household materials and concluded that tightly woven cotton fabric and 100% cotton t-shirts were best for making homemade masks. Double layers are more effective. Vacuum cleaner bags or HEPA filters (like air conditioner filters) come the closest to the N95 masks for filtration.
For this mask tutorial, we will use:
A tightly woven fabric for the outside layer (better filter).
100% t-shirt fabric for the inside layer (more stretch for comfort & fit).
An optional layer of disposable filter material.
We will also insert an adjustable wire to form fit the mask around the bridge of the nose, creating a better seal.
Four things to consider when making your own face mask:
Is it breathable?

Can you actually get air into your lungs? We don't need people passing out in the streets for fear of inhaling the virus. This is serious.
Don't use any material you can't breathe through easily, like polyester, especially if you have any underlying health concerns which cause breathing difficulties.

Does it fit snugly around the nose and mouth, forming a seal?

There are three ways to do this for a DIY mask: making pleats on the sides, inserting a flexible wire over the bridge of the nose, and/or creating a curve shape from nose to chin. We will create a curve and insert a nose wire.

Is it comfortable to wear and durable?

If the mask is so stiff it gives you a rash, you won't wear it.
If you wash it once and it disintegrates in the hot wash or dryer cycle, it's probably not the best for filtering microparticles of a virus.

Does it filter properly?

100% cotton is the best material choice.
Doubling the layers is most effective.
INSTRUCTIONS
SUPPLIES:
100% heavy cotton t-shirt (inside layer for stretch)
100% tightly woven cotton (outside layer for filtration)
Scissors
Pencil, pen or chalk for marking fabric
Straight pins or weights for cutting fabric
Two, 4-5″ strips of ¼" – ½" Elastic for Child
Two, 5-6″ strips of ¼" – ½" Elastic for Adult
Four, 14-15″ of Ribbon or bias tape for Child (if no elastic)
Four, 16-17″ of Ribbon or bias tape for Adult (if no elastic)
Flexible Wire
Thread
Needle (if hand sewing)
Air filter or vacuum cleaner bag (Optional)
Alternative Supplies Found Around the House:
If you don't have the above supplies handy and don't want to go to the store, you can find many of these items in your own home.
Everyone has t-shirts. Just make sure they are 100% cotton.
Tightly woven 100% cotton outer fabric can be a tea towel, pillowcase, crib sheet or even an old dress shirt. Again, check fabric content. We are using a scrap of quilting fabric. You can also use Muslin, which is 100% unbleached cotton fabric used for dressmaking. Very inexpensive.
Elastic can be removed from old shorts or sweatpants, bungee strings from a backpack, or even hair ties!
If you don't have ribbon for creating ties, you can cut strips of fabric, use shoestrings, or any rope or string that is non-stretchy.
Flexible wire: We are using a pipe cleaner. You can also use bread twist ties, craft wire, floral wire…or you can even clip the wire from a tangled up old slinky! Ask your hubby, he might have some wire in the garage… Please, make sure you disinfect it first.
HEPA filter from vacuum cleaner bag or air filter.*
*Adding a filter will make it harder to breathe through, so please make sure your mask is not too thick.
STEPS:
Please see the complete video tutorial below using a sewing machine. There will be a short instructional at 06:19 minutes for hand sewing. Otherwise, the steps are all the same for both methods.
Download & Print the Free Patterns Below:
There is 1 Fabric & 1 Filter pattern each for Adult and Child sizes.
Make sure your printer is set to actual size. (Includes a ¼" seam allowance)
Trace Patterns and Cut Fabric
Fold the outer and inner fabric pieces in half, right sides facing together.
Use sewing pins or binder clips, weights or rocks to hold the paper pattern on the fabric.
Use a pencil/pen to trace the patterns onto your fabric and filter.
Cut 2 pieces of tightly woven fabric – outer mask
Cut 2 pieces of t-shirt fabric – inner mask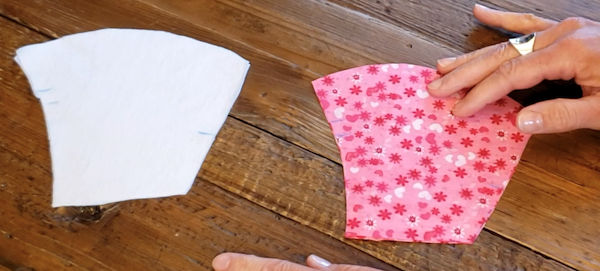 Mark the 1" gap along the top edge of one side of your fabric (inner and outer). Make sure to mark on the wrong side of the fabric.

This will be used to insert the wire and won't be completely sewn closed.
Make sure you mark the same side, for both inner and outer fabric pieces so they match up. (If you mark both, that's okay too…just leave the opening at the top on one side only)

Mark the 4" opening centered across the bottom pieces of fabric. Mark on the wrong side of the fabric.

This is how we flip the mask right side out and will also be the opening to insert the filter.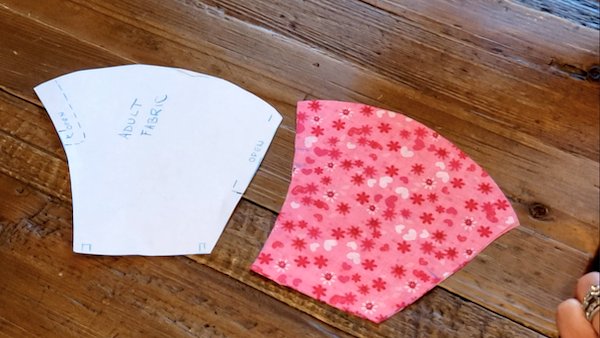 Cut 2 pieces of filter material.

The pattern is smaller than your fabric pieces as you will only be sewing the center seam.
Time to Sew!
Place the outer fabric pieces right side together
Pin in place along the curved center seam.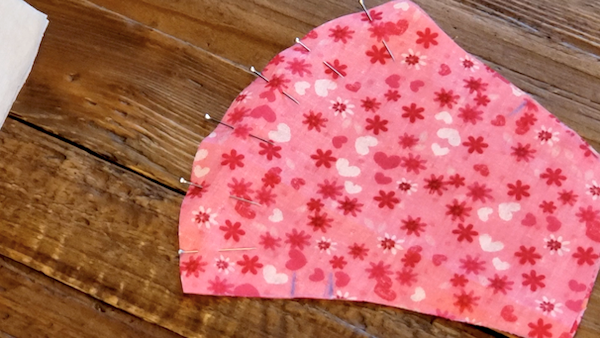 Sew with a 1/4" seam allowance.
Important Reminder for New Stitchers: Make sure to knot your thread ends if you are hand-stitching or backstitch each end of your seam if you are using a sewing machine.
Do the same with the inner fabric pieces.
Place the filter pieces together, pin and sew the curved center seam with a ¼" seam allowance.
Clip tiny notches about ½" to 1" apart into the seam allowance of filter piece along the curve, perpendicular to the seam stitch, for a smoother fit.

Make sure not to cut all the way through the seam stitching!
Press open with your fingers only. Do not use an iron on the filter.
Clip notches into both inner and outer fabric pieces.
Press seams open with an iron.

If you don't have an iron, just smooth them open with your fingers. You can rub your fingers along the fabric to heat like an iron.

I use a Tailor's Ham for pressing curved seams.

If you don't have one, you can use a tightly rolled-up towel, held together with string. Don't use rubber bands or you will melt them onto your towel and make a mess of your iron. (Yuk)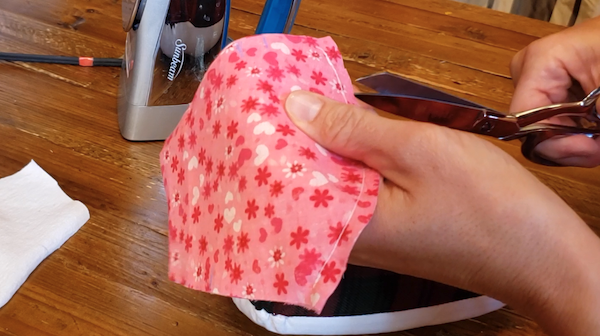 Elastic or Ribbon Ties
Elastic: Cut two 4-5" pieces of elastic for Child masks / two 5-6" pieces of elastic for Adult masks.
Ribbon: Cut 4 pieces of ribbon or string at 14-17" each for tying (you can adjust this length as necessary)
Lay the inner fabric flat on the table with right side facing you or "up" on the table.
Place the elastic or ribbon on top and bottom corners as indicated on the pattern.

On the pattern, the elastic placement is farther from the bottom edge than the top because of the rolled seam allowance along the bottom.

Pin in place.
Elastic should lay flat towards center of mask forming a "C" shape on each side for looping around the ears.
Ribbon also lays flat towards center. Fold excess ribbon and pin or tape down to center of fabric to keep out of the way for sewing.
Sew the elastic or ribbon in place along both sides.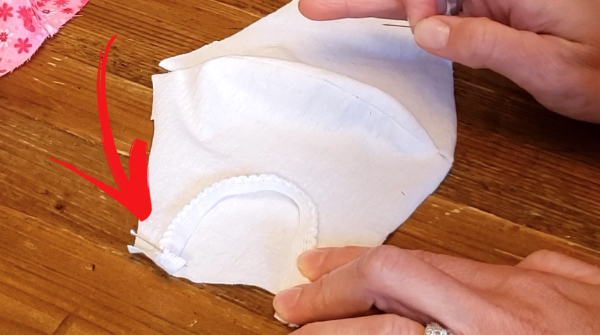 Create Bottom Filter Pocket
Fold the bottom edges (the chin side) of both inner and outer pieces ¼" towards the inside and iron. Fold again ¼" and iron, creating a ½" finished edge.

I didn't use an iron in the video because it's easier for me to pin as I go when working with narrow seams.

Pin in place before sewing.
Sew this folded and pinned seam across each bottom edge to hold.

This prevents fraying and will form the pocket for your filter piece.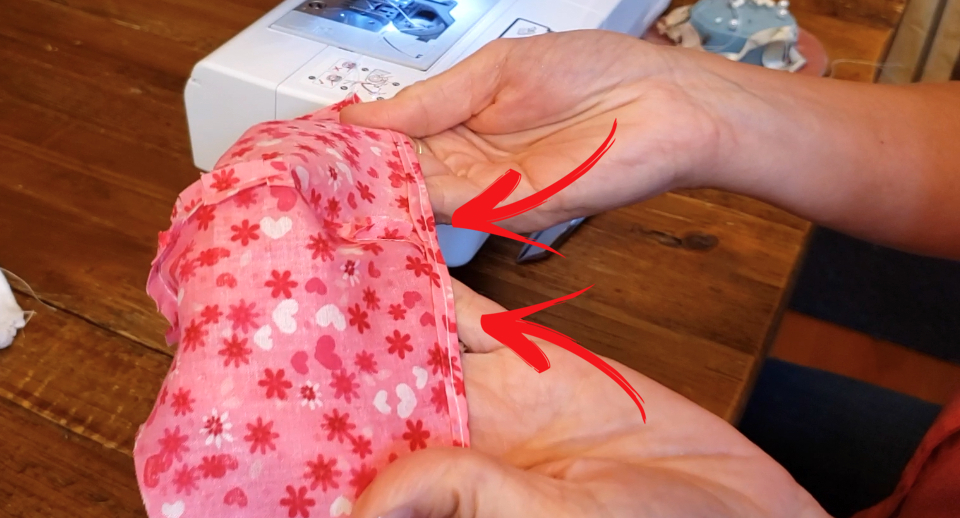 Putting It All Together
Lay the outer fabric piece, right side down, on top of the inner fabric.
Pin in place.
Mark 1″ opening on top of mask on one side only with pins. Do not sew this gap.
Mark 4″ opening centered along bottom of mask. Do not sew this gap.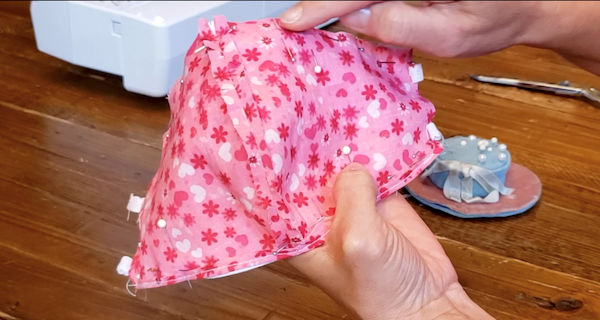 Sew ¼" seam allowance around the entire mask.

*Be sure to leave the 1" gap open on one side at the top.

*Be sure to leave the bottom gap open 4" along the center.
HINT: Make sure NOT to catch the ribbon along the top and bottom edges as you sew. Use pinkie finger to push straps further inside the mask when you get to that point while sewing.
Flip the entire piece inside out through the bottom opening. Use a pencil eraser or chopsticks to push the corners out.
Press flat with an iron.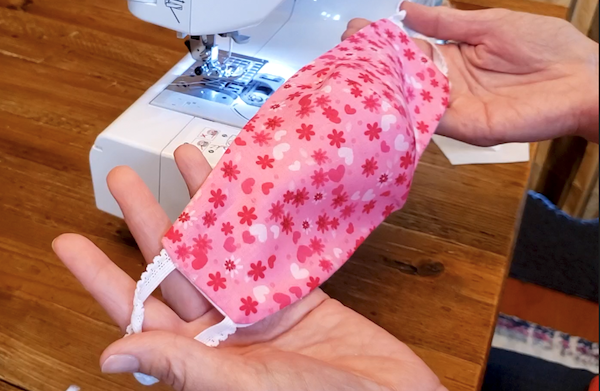 Create Nose Channel for Wire
Following the paper pattern markings, sew through both layers down 5/8" to 1" from the top on the side that was completely sewn shut.

Make sure to start on the outside of the gap (closest to ear), so the wire can be inserted into the channel you are creating.

Then sew both layers, 5" total, across the center and to the other side of the mask. Turn and sew straight up to the top of the mask.
This forms the channel across the bridge of your nose for the wire insert.
Insert Wire & Filter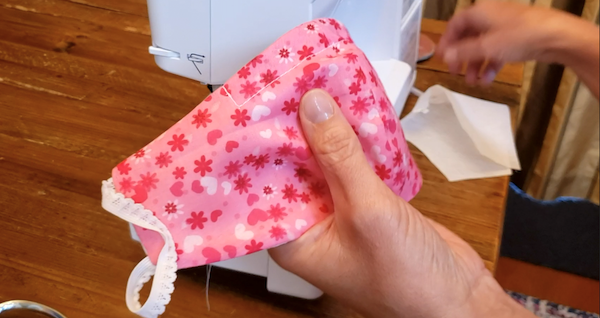 Cut wire piece 4" (can adjust as needed).
Insert wire through the opening at the top and push through the channel, centering it across the bridge of the nose.
Insert filter through bottom, flattening it with the pencil eraser or chopstick.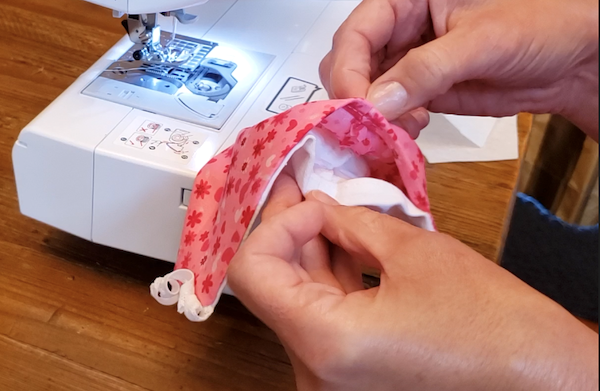 Voila! You now have your own personal face mask!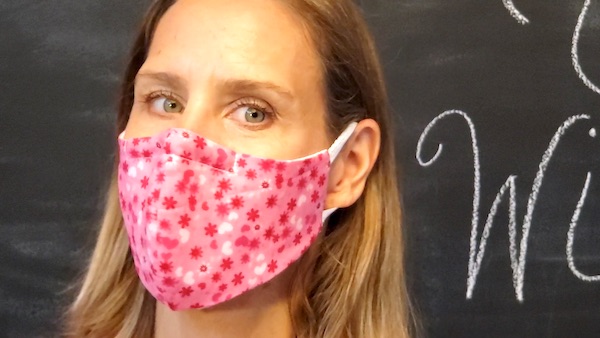 How To Wear Your Mask
VERY IMPORTANT!! Please read:
According to the WHO, you MUST wear the mask properly for it to be effective.
Clean your hands before putting on a mask.
Don't touch your mask while wearing. If you do, wash hands immediately or use hand sanitizer.
If mask becomes wet or damp, change into a fresh mask.
Remove mask using the elastic bands or fabric ties. Do not touch the outer side of the mask that is exposed to germs.
Final Notes:
Make sure you are using two different colored fabrics for the inside and outside.
Remember to use the same color facing you or you risk self-contamination by putting it on the wrong way if it hasn't been disinfected between use.
If you only have one type of fabric, make sure to indicate which side fits against your face with a permanent marker.
Remove the wire and filter (if using) before washing.
Wash and dry on hottest settings.
Stay Healthy * Stay Strong * Indulge a Little * Laugh a Lot 🌷